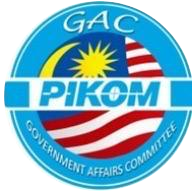 Government Affairs Committee (GAC)
The PIKOM GAC focuses primarily on policy advocacy, which is done through strengthening relations with the government and contributing towards policy setting that will impact the digital & tech industry. The GAC also aims to build a good reputation for the industry that comprises of technology stakeholders and end-users as well as to foster good governance of the industry through monitoring of legislation and regulation, anticipation of future developments, opportunities and value creation.
The GAC acts as the voice of the industry in the government. PIKOM is actively represented in over 40 government-related committees including those chaired by the Prime Minister. Notable efforts in the past year included being the sole representative in the evaluation of computing curriculums at MQA, tech representative in the formulation of the National Data Sharing Policy, task force member of the economic and industry work group for the Pandemic Management Strategic Committee and panel member to 12th Malaysia Plan with EPU.
PIKOM GAC Members 2019/2020
Chair: Dr. Dzaharudin Mansor, Microsoft
Advisor: Shaifubahrim Saleh, Chairman XaaS Berhad
Members: Mohd Navawee Husiany, HeiTech Padu Berhad
Norreha Mansor, Cisco Systems (M) Sd Bhd
Dr. Aparna Sehgal, Dynatrace Malaysia Sdn Bhd
Nordin Mat Isa, Mesiniaga Berhad
Mazidee Md. Ramli, Strateq Sdn. Bhd.
Syafiq Habibuddin, HeiTech Padu Berhad
Lee Kim Seng, Sarawak ICT Association
Surendren Velappu, HP Inc.