Click here to view in HTML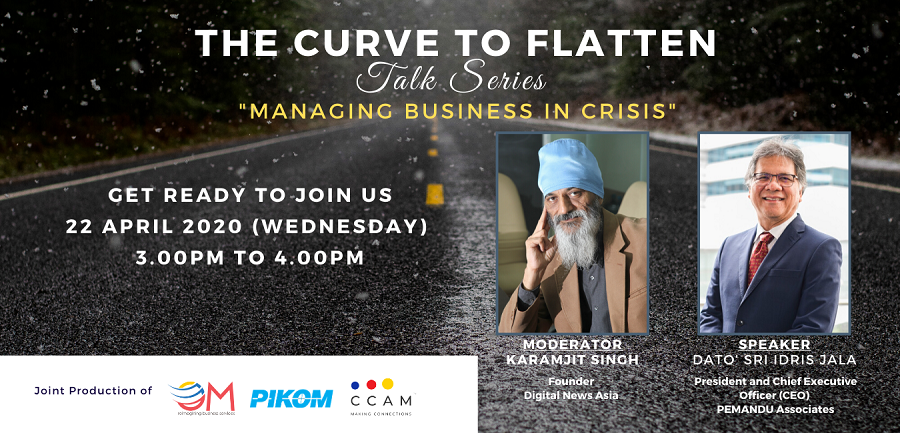 This is the 3rd edition  of The Curve to Flatten Talk Series titled "Managing Business in Crisis" brought to you by OM, PIKOM & CCAM. Another exciting thought leadership session bringing you the leaders of the industry right to your screen.
Many businesses are currently facing serious crisis as a result of the lockdowns and travel restrictions. While many CEOs are well equipped to deal with business in good times, some have very little experience in dealing with serious business crisis. If these CEOs google the topic "Managing business in crisis", they will find lengthy and insightful articles which describe the key principles and frameworks on how to manage business in crisis. No one disagrees with these universally accepted principles and frameworks – in many ways, they are all motherhood statements. But the key question is "how do we implement these principles and put frameworks into practice?" They need practical "hand-rails" to help them. At PEMANDU Associates, based on our business turnaround experience, we have developed a fit-for-all, step-by-step approach to help you manage your crisis.
This webinar event is OPEN FOR ALL and is completely FREE OF CHARGE!
REGISTER NOW! at RSVP
What to do:-
Join us via Microsoft Teams platform from your desktop or from your mobile.
Upon completing the RSVP registration form you will receive a subsequent email where you will be provided a link to the webinar(passwords not required)
You are welcome to post any questions you have in mind by simply posting it in the Q&A Section.
This is a joint production of OM (f.k.a. Outsourcing Malaysia), PIKOM (National Tech Association of Malaysia)  and the Contact Centre Association of Malaysia (CCAM).
See you online!!
Stay Safe
OM & PIKOM Secretariat
---
© 2020 PIKOM, The National Tech Association Of Malaysia. All Rights Reserved.
To unsubscribe please click here.
PRIVACY POLICY :
We respect your privacy and will never share your information to any unauthorized third party. If we ever share your information with a trusted partner, you will always be asked if you want to opt-in to any correspondence with them.