PIKOM's new CEO of the Secretariat, Alan Fung,  is a familiar face in the ICT industry and in PIKOM. He talks  to My.IT about the his vision  as CEO and what he hopes to accomplish during his tenure.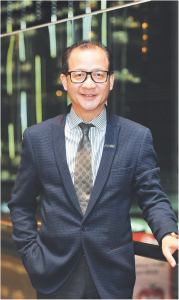 When PIKOM, the National ICT Association of Malaysia, announced in the various sub-sectors of the former for more than 30  years. He also served as PIKOM's Executive Director from  1994 to 2000 before leaving to embark on a career path that saw  him start his own  company and then move on a successful corporate career that includedthe appointment of Alan Fung  as the CEO of the Secretariat, the appointment was  welcomed by many. Alan, a graduate of University Guelph, Ontario, Canada, in Computing Science and Business Administration, is no stranger to the ICT industry or PIKOM. He worked stints with MDEC where he served as Senior Manager for Enterprise Development Division. He was  also the founding team member of MDEC Global Acceleration and Innovation (GAIN) programme that focused on globalizing selected high-growth Malaysian tech companies.
His first stint in PIKOM saw  him working together with the Council and his team spearhead to turn the then loss  making PIKOM into a profitable, respectable and vibrant industry association by the time he left it in 2000. He left such an indelible mark  in PIKOM at that time that in recognition of his work, Computerworld Magazine named him one of Malaysia's top 50 IT Personalities. It is, Alan says, one of the greatest honours that he treasures.
I WOULD LIKE TO EXTEND OUR MEMBERSHIP TO INCLUDE END-USER ORGANISATIONS AS WELL AND EXTEND MEMBERSHIP TO SMALLER SMES AS WELL. – Alan Fung, PIKOM's new CEO of the Secretariat
PIKOM THEN AND NOW PIKOM has undergone many changes in the 18 years that he had been away from  the organisation. Now that he's back, what are the significant changes that he has seen? "The  biggest change that I have seen is in the terms of the industry itself,"  says Alan. "In the late 1990s, the association's members mainly consisted of distributors and sellers of hardware and software. Now, there are many more companies that have their own  Intellectual Property (IP) in terms of software. Those days the members mainly consisted of MNCs or some local  large  companies. Now the members of PIKOM consist of many local  ICT entrepreneurs which is great because this is what the MSC Malaysia has been trying  to promote: to create more locally- owned companies that have their own IP. Twenty years ago,  there were hardly any. My wish is to see these companies grow  into billion ringgit companies and also the creation of more such companies in the future as well."
HIS VISION AS CEO
Alan is very happy that PIKOM has a very good branding in the industry. "I regard PIKOM as one of the strongest ICT organisations in Malaysia. My top priorities include giving PIKOM a fresh approach to make it more relevant to the changing ICT landscape, by inviting  newer generation of member companies to be part of the association as well as kicking off related initiatives in areas of Blockchain, AI, Internet of Things, Robotics and IR 4.0," he says. He also hopes to increase collaboration between PIKOM and other industry bodies such as the tech and non-tech based organisations. "PIKOM is in a very unique position with regards to our membership in that we have both vendors and suppliers as well as a sizable group of about 110 CIOs with each having a budget of more than RM10 million,  thus collectively carrying a combined IT budget of RM1.1 billion annually," says Alan.
"I also hope to expand coverage into a large  base of end users. Our members are generally suppliers, CIOs, vendors etc. I would like to extend our  membership to include end-user organisations as well and extend membership to smaller SMEs as well," he adds.
On his second stint with PIKOM, Alan is thrilled to be back again. "It is great to be back at PIKOM again. I am humbled to be given the opportunity to re-join PIKOM at this exciting and challenging juncture of our  industry to help PIKOM in its transformation journey," he says, adding that it is a well-recognised fact  that in many countries, a strong industry association is imperative for the development of the local  industry.
"IT IS A WELL- RECOGNISED FACT THAT IN MANY COUNTRIES, A STRONG INDUSTRY ASSOCIATION IS IMPERATIVE FOR THE DEVELOPMENT OF THE LOCAL INDUSTRY".
PIKOM Chairman Ganesh Kumar Bangah says the Council is looking forward to see PIKOM play  a more active role in the industry, taking shape under the guidance and support of Fung,  who comes armed with a wealth of industry experience and insights over  the past 30  years. "Moving  forward, we want to create a much stronger and a more dependable association with tailor- suit offerings for our  existing, new and future members who are the driving force of the ICT industry which is one of the fastest growing industries in Malaysia" says Ganesh. The new CEO was  also part of PIKOM's office bearers in the early 2000s, serving as the association's Honorary Secretary.