Datuk  Darell Leiking made history when he was appointed the first Sabahan and the first person from East Malaysia to head the Ministry  of International Trade and Industry (MITI). He spoke to MY.IT exclusively about investors coming back to Malaysia, how MITI is pushing e-commerce to even those in rural  villages and how Malaysia needs to remove certain walls in order to become an economic star of the region.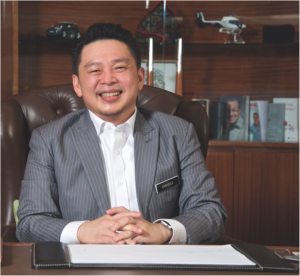 Datuk Darell Leiking jokingly said when he met us that ever since he became a Minister, he has become a public "I prepared them for this years ago when I became an Opposition MP. So they are used to it," he says. "My family is in Sabah but they come down to KL more often. My daughter who is in college now stays with me and she is like my guardian now — she keeps tabs on my activities!"property in that he has very little personal time for himself or his family. But thankfully, his family understands this. he quips.
ATTRACTING INVESTMENTS
Ever since the new government has taken over,  the Opposition has been claiming that investors are wary of coming to Malaysia, especially since the Pakatan government has been very transparent about the debts the country has been saddled with due to the mismanagement of the previous government. It's worth pointing out that Malaysia lost  its status as the star attraction for FDIs in Southeast Asia several years ago  with countries like Indonesia and Vietnam taking a bigger share of the FDI. So, are investors spooked by the change in government? No, says Datuk  Darell.
On the contrary, most investors have told him that the reason they had been avoiding Malaysia in the past is because the investors faced lots  of problems and obstacles in wanting to invest in Malaysia. "For instance, they complained that they had to see different people to get approval for their investments. I told them under this new government, there will be no such obstacles. We want your  business and the ease of doing business has improved a lot. If anyone causes problem we'll deal with it!" Datuk  Darell also credits the civil servants who work in MITI and other investment agencies for doing their part in ensuring that things are easier for the investors who want to come to Malaysia. "The  message of this new government is loud and clear: we listen to investors and we want to make it as easy as possible for investors to come here."
He reveals that in today's business environment it is the investors who decide where they want to go. "The  investors who come to Malaysia prefer certain states over  others. And even within the state, they prefer certain districts," reveals Datuk  Darell. This is where the state investment agencies can  play  their part by inviting  the investors and highlighting the special characteristics of the state. He stresses that it's important for the stage agencies to work closely with MITI because the Ministry  has the credibility of the federal government.
Describing himself as a salesman who is tasked with selling  Malaysia as an investment destination, he says that one of his biggest challenges is to convince investors that there are many other states where they can  park  their investments besides Kuala Lumpur, Selangor, Penang and Johor. "I have to think  of all the states in the country. So as a salesperson for Malaysia I have to tell investors that each state has its own  distinct features and characteristics and try to spread the investment all over Malaysia," he says.  As the first East Malaysian and Sabahan to hold the portfolio of Minister of MITI, he says he will also speak up for Sabah and Sarawak. "This was  something that was  missed out in the past because when the investors thought of Malaysia, it was  only focussed on West Malaysia. I won't  forget East Malaysia but at the same time I will not ignore the other states," states Datuk  Darell.
CHALLENGES IN ATTRACTING INVESTMENTS
Although investors have now a very positive outlook about Malaysia, lack of clarity  in policies. "There are still some things that need to be fine tuned in the eco-system like regulations for example. They  have to be uniform," he reveals. Datuk  Darell admits the country still needs to do better in some areas. Some of the problems are the long time it takes for investments to be approved or to be rejected and "The PM has instructed us that we must be firm and clear on our policies to the investors so that they do not have any doubts. MITI has been urging  the state economic agencies to make things faster and easier for investors to do business. For example, you cannot impose extra conditions after certain things have been agreed upon," he says.  "We need to respect and honour the agreements we sign. But at the same time, we also have to ensure that we don't compromise our beliefs, our sovereignty or authority."
BETTER MARKETING OF MALAYSIA TO THE WORLD
The Minister insists that trickledown effect from  the new investments is real but acknowledges it is slow  to reach the people. But things will get better next year as there will be more trade missions and export missions that will be headed by him and MITI.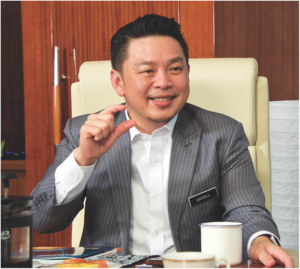 Since becoming Minister of MITI he has realised that Malaysia produces world class products that are in great demand overseas. He cites his visit to the Import and Export Fair in Shanghai, China as a real  eye opener to the popularity of Made in Malaysia goods. "Malaysia had 70 booths and the sales in three days was RM86 million! I didn't realise that Malaysian products like Julie Biscuits were very famous in China.  All the products were sold out, including the samples!" he says.
The trade fair made him realise the huge potential that Malaysian goods have. "As a country our products are of high quality and well loved. But we have to ask ourselves If we have missed out in marketing our goods to a large  global market? We have many things to offer but we need to market and package our products and our country better," says the Minister.
He cites the October figures for export as another example of Malaysia's resurgence and the popularity of Malaysian goods. "Our export figures for October was RM96.3  billion — it's the highest that we have recorded!"
E–COMMERCE IS THE WAY TO GO
Datuk  Darell is a huge fan of e-commerce and of its possibility of driving the economy to greater strength. "E-commerce has done well for Malaysia with big companies like Alibaba that have come to Malaysia to use it as a trading platform," he says.
He has seen firsthand how e-commerce can  uplift  people's life, even those from  small  towns and rural areas, and can  create a new class of entrepreneurs. "I met a lady  from  the small  town of Tuaran (population 3253 in 2010 according to Wikipedia) in Sabah who told me  she is getting on the average, monthly orders of RM12,000 to RM13,000 for a food item that she makes! I visited the Google office in KL where I learned that the company helps many indigenous people in Sabah and Sarawak to sell their handmade beaded products via the Internet. We need to get people especially those in the rural  areas to show them what e-commerce can  do for them," he says.
The ubiquitous presence of smart phones makes it possible for anyone to have access to the Internet. All that is needed is for the people to have some training and guidance. The Government is already training its officers to become trainers for e-commerce who will then go back to their constituency to teach people about the possibilities of e-commerce via their smart phones.
His Ministry  is in charge of the National e-Commerce Council (NeCC) of which he is the chairman. Other government agencies like MDEC oversee the Digital Free Trade Zone (DFTZ) which comes under the purview of the Ministry of Communications and Multimedia Malaysia (MCMM).
For e-commerce to really  boom, there has to be some infrastructure in place like regulatory measures to overcome hiccups like e-customs, solving logistics problems so that goods can  be transported easily in the region and taxation of e-commerce sales. "When all these issues are solved, whether it's small  or big companies or MNCs, e-commerce will be the way forward," affirms Datuk  Darell.
THE FUTURE IS THE ICT INDUSTRY
Datuk  Darell believes that the ICT industry is the only  industry that Malaysia can  take control of from all areas: be it in manufacturing, productivity and software. The education system has to change to reflect this. "We have to teach young people how to create apps and how to learn coding," says Datuk  Darell. The Internet is the great disrupter whereby the old way of doing things will not work anymore. "People are using Internet platforms like YouTube, Instagram and Facebook to earn a living. I've heard of a young child who is earning thousands of dollars just by reviewing toys. You don't have to have any  expertise: just  learn to use the platform creatively."
The only  stumbling block to Malaysia's ICT dreams is the slow Internet speed. "I really  wish Malaysia moves fast  with regards to the Internet speed and price because compared to other countries we are still slow."
MALAYSIA'S GREATEST ASSET
Datuk  Darell says that the country's greatest asset is its people. "There  are so many talented Malaysians all over  the country. Unfortunately we tend to break ourselves into different demographics and see everything in terms of race, quota etc. If this is the way, we will lose talented Malaysians to other countries. In today's competitive economic climate we can't  have this situation. If only  all Malaysians can  think  of each other as Malaysians first, we can  rebuild this nation to be better."