Penang's mayor, Dato' Ar. Yew Tung Seong gives an insight into what visitors can expect when they come to Penang next year for Penang TECHFEST2020.
By Sharmila Valli Narayanan • Photography Teh Young-Sun
Dato' Ar. Yew Tung Seong was sworn in as Penang's third mayor last year. Next year in 2020, Penang will the focus of the tech world as it will host two major tech events: the WCIT2020 and the Penang TECHFEST2020. Penang TECHFEST2020 is a technology festival that is all about experiencing the latest innovation and technology from around the world. The festival aims to show how technology can better serve humanity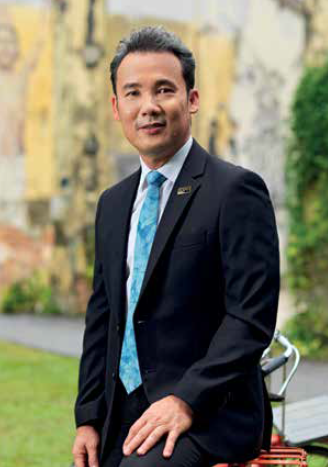 How is Penang preparing itself to play host to these events? What can the public and visitors expect?
Penang has a vision to become an intelligent, creative and healthy city. The focus is on making the Penang a cleaner, greener, safer and healthier place to live, supported by excellent public amenities and infrastructure.
This is why MBPP (Penang Island City Council) is now implementing data-driven delivery policies using the BDA and digital management systems. We want to create a digitalised city by leveraging resources and having people use technology.
Our ongoing restoration projects within the UNESCO World Heritage site of George Town such as restoring the Town Hall, continuing with the back-lane transformation project and the progressive restoration of heritage buildings will be almost completed in time to host Penang TECHFEST2020.
This is a technology festival that is all about having an immersive adventure and discovering how a city, steeped in heritage, is able to work alongside the latest in technology. As festival goers are expected to walk around the heritage core zone to experience various pop-up tech events, we are certain that all the preparations to-date and with more in the pipeline will be sufficient to create an unforgettable experience for visitors.
In terms of events, for ten days during the Penang TECHFEST2020, multiple events will take place across the streets and buildings where the public can hear talks and experience for themselves such things as the use of 5G technology and how it will transform live; autonomous cars, experience AR/VR/MR as well as learn about the most exciting and innovative start-ups and what's happening in the marketplace.
While the Penang TECHFEST2020 is going on, WCIT2020 will be held at a solar powered convention centre, the Setia SPICE Convention Centre, a flexible and modern business meeting space. It has six acres of roof garden with special features such as bamboo corners that will be created as part of the WCIT2020 experience.
Another interesting event to look out for is the annual grand gala and awards night of WITSA (World Information Technology and Services Alliance) which will be held along the Penang Second Bridge, the Sultan Abdul Halim Muadzam Shah Bridge.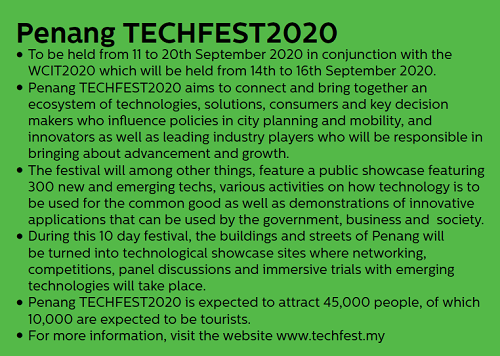 What kind of impact do you expect Penang TECHFEST2020 to have in Penang?
As we all know, tech start-ups today have taken the world by storm. A critical component for the continued and sustained success of Penang is embracing tech start-ups and Industry 4.0 including Big Data Analytics, Artificial Intelligence, Robotics, Fintech, Machine Learning, Cloud Computing and Internet of Things (IOT).
With over 45,000 potential participants internationally and locally mainly comprising tech companies and start-ups, we hope to create synergies with our existing world-class electronics cluster and further enhance Penang to become the capital of innovation in Southeast Asia for start-ups and digital innovation communities around the world.
The platform provided by Penang TECHFEST2020 will facilitate exchange of ideas amongst local and international players and encourage new innovation. We want Penang to be known as the place to be for enabling and empowering solutions.