Gobind Singh Deo, Minister of Communications and Multimedia Malaysia, firmly believes that the Internet is part of basic human rights and is pivotal to survival in today's world. That's why he wants telcos to increase the speed of broadband and reduce the price so that it's accessible to everyone. In an exclusive interview, he also talks about the changes his ministry intends to make to RTM and Pos Malaysia so that they continue to be relevant to Malaysians.
By Sharmila Valli Narayanan • Photos By Song@PictureThis Studio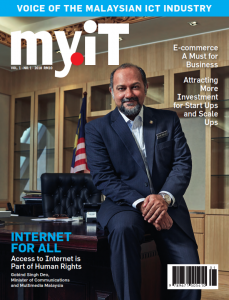 IT has been more than three months since Gobind Singh Deo took office as a minister under the Pakatan Harapan Government which won the historic 14th Malaysian General Elections. It is a huge change for him from being in the Opposition to being in the ruling Government. "Being in the Opposition was different — we need to know how to ask questions. Now that we are the Government, we need to know how to answer the questions!" he quips.
He continues: "I needed to find out the actual extent of the Communications and Multimedia Ministry (CMM), understand the various agencies that come under the purview of the ministry, study the issues that those agencies have to deal with and figure out the direction these agencies need to take. I split the goals of the ministry under short term, midterm and throughout the five-year tenure of the Government."
BETTER BROADBAND SERVICES
One of the targets close to his heart is to lower broadband prices with higher speed and improved service. By the end of 2018, fixed broadband prices are expected to be lower by at least 25 per cent. Malaysia has a lot of catching up to do even among other countries when it comes to broadband connection. According to the World Bank Malaysia Economic Monitor June 2018 report, the level of digital adoption by businesses in Malaysia "is average for a lower middle-income economy". It states that only "62 per cent of businesses are connected to the Internet, 46 per cent have access to fixed broadband services, and 18 percent have some form of web presence".
The report says that high-speed broadband access rates are much higher in Malaysia. It ranks Malaysia 74 out of 167 countries for fixed broadband services, and 64 out of 118 for fibre broadband services, behind neighbouring Vietnam and countries with similar levels of economic development, such as Mexico and Turkey.
Gobind is passionate about making high-speed broadband accessible to everyone in Malaysia because he strongly believes that "Internet access is a basic human right and pivotal for survival today". His ministry is in the process of making amendments to the law to have the Internet classified as one of the essential utilities such as water and electricity. "There will come a time in the near future when access to Internet is as vital as access to water and electricity. In the future when developers build houses, they'll have to ensure there's access to the Internet," he states.
There have been some criticisms from telcos who complain that lower broadband prices will cut into their profits. Share prices of most telcos went down when the Government announced its intention of doubling the broadband speed while reducing the cost by half. Gobind doesn't buy this argument. "If the price of broadband is reduced and a better service package is offered, the company will increase its subscriber base as more people can now afford broadband. This in turn will increase the company's profitability. The reduction of price does not impact the profits."
PROTECTING DATA
Cybersecurity is also an issue of critical importance to the ministry especially since last year Malaysia suffered the biggest data breach where over 42 million users personal information was compromised.
Gobind hopes to get the final report on the incident by the end of the year before deciding what measures can be put into place to ensure that such incidents do not happen again.
Recently, the CMM took over CyberSecurity Malaysia, an agency which was previously under the Ministry of Science, Technology and Innovation (MOSTI). "This is an agency which we can use to develop mechanisms by which we can enhance security measures to ensure that data is always protected," says Gobind.
Since data breaches are becoming more common and the perpetuators are generally from another country, during a meeting in Singapore where ministers discussed data breaches, Gobind raised the need for countries in the region to consider having cross border legislation to help one another during a cyber attack.
He hopes to discuss this further with other regional ministers the next time they meet. "But before the regional cooperation can materialise, it's important to put in place regulations and enforcement agencies that are equipped and able to deal with threats fast and effectively and take it to a different level where we can engage with countries around the region first and then beyond. In years to come there will be more cyber threats that will be from across borders," he says.
A MAKEOVER FOR RTM
Next on his agenda is the revival of RTM. This venerable broadcasting institution is more than 70 years old. At one time, almost every household in the country was tuned to its radio and television stations. But over the last two decades, it lost its hold on the Malaysian radio and TV audience. "RTM has somewhat been left behind with the advent of pay TV service providers and private radio stations," acknowledges Gobind. In an effort to revive it to become one of the premier broadcasting stations in the region, Gobind and his team have held many discussions and met many people to get their views and feedback.
One of the ministry's objectives is to try to increase the viewership and generate interest in the station's television and radio divisions. The decision to telecast many of the matches live on RTM television during the recent World Cup that was held in Russia was a huge success as it increased the viewership tremendously. RTM was able to reach a much wider audience, especially in the rural areas.
"Not everyone has access or can afford Astro. RTM is free and it has a reach no one has. We need to build on this momentum created by the World Cup to capture more viewers," he adds. Some of the changes the ministry has instituted are giving the newsroom a facelift and bringing changes to its content. He has urged RTM to project a new, more aggressive image to increase its viewership figures within six months.
He has also pushed ahead with the Malaysia First Policy which focuses on local content, particularly among the Chinese and Indian communities. For example, he launched ISAI.MY on RTM Minnal FM, the Tamil radio station. This programme is the new avatar of the very popular Kalapadam, a talent show, which first started broadcasting in 1957. Programmes such as these are part of the Government's push to grow the local music scene.
Another of RTM's jewels that has been revived is the RTM Orchestra. "I was very impressed when I heard them play. I received a lot of positive feedback from the public for reviving it. Many of our best musicians had their start here. It is the oldest orchestra in the country," says Gobind with pride. In order to showcase its talent and to get as many Malaysians to see them perform live, the RTM Orchestra will perform on a monthly basis in different states with the support of the ministry.
MAKING POS  MALAYSIA RELEVANT
Pos Malaysia has also caught the attention of his ministry. Once an indispensable part of Malaysian life, these days it has become less important as people prefer to pay their bills online and send emails instead of cards and letters. However, the rise of e-commerce has revised the fortunes of Pos Malaysia; it has become the choice of many e-commerce companies to deliver their goods to their customers. Today, Pos Malaysia has one of the largest courier services in the country. And with a presence all over the country, even in the most rural and isolated areas, it has a reach that cannot be matched by other courier companies.
The ministry is working with Pos Malaysia on how to leverage its nationwide presence. Among the ideas that are being considered is to change these post offices into a one-stop centre that provides various services at less cost and with a very wide reach. There are also other suggestions that are being looked at, such as turning these post offices into WiFi hot spots, thereby bringing Internet to the furthest corner of Malaysia.
LIFE AS A MINISTER
On another note, he shares some insight on his role as a minister. "Being a minister is not easy as the hours are long and the days are packed. No one day is alike. Sometimes I start off the day outside the office by attending events. Some days I spend most of the time visiting various agencies within the ministry and when Parliament is in session you're expected to attend the session either to answer questions or you might be required to vote. This usually takes up the whole day."
The evenings, he says, are mostly spent meeting various people. "Sometimes I have to watch movies, documentaries made by our local filmmakers who invite me to attend the premiers, etc, or attend shows like classical dance performances or performances by an orchestra. I can't attend all but I do try to attend to show the ministry's support for these events. Weekends, of course, are when you attend to the needs of the people in your constituency.
"Then, there's travel. Since becoming a minister I've been travelling a lot overseas to international conferences where I am invited or expected to speak. In the next two months I'll be going to Japan, Korea, Dubai, Cannes and Bali.
"In short, it has been very hectic and tough. But we have to get the job done and I am pleased we have achieved some of our targets," adds Gobind.