CHARTING THE COURSE FOR 2016 and BEYOND
Newly elected PIKOM CHAIRMAN Chin Chee Seong m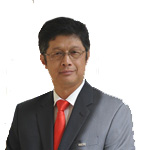 akes his first media statement with a special announcement to lead a revamp of The National ICT Association of Malaysia ('PIKOM') at its 30th year of establishment come 2016.
PIKOM – which is the single largest association representation of the country's ICT industry, will actively advocate and promote its recently launched individual membership which will widen the reach of PIKOM beyond the traditional vendor space. This individual membership is opened to all and programmes will be tailored according to the needs of each interest group. PIKOM will also spread its wings to the corporate ICT scene in diversified sectors that include Banking & Finance, Manufacturing, Tourism & Hospitality, Healthcare, Services, Logistics, Oil & Gas, Telecommunications and eCommerce, amongst others.
"PIKOM intends to represent a larger slice of the market that powers the mainstream economy. Today as ICT has become a crucial and integral support for all business and economic operations, it is only fitting that PIKOM's role extends to drive technological adoption throughout all corporations from various sectors."
While PIKOM will continue its main charter of being the 'Voice of the ICT Industry', the following initiatives can be expected in Year 2016:-
a) Individual Membership Drive
For the first time in its history, PIKOM will open and promote its membership to individuals. This is an effort in expanding and growing the association's representation of a broader segment in Malaysia. Through this approach, PIKOM will be better positioned to enhance its talent pool, increase network, while looking to bring greater awareness and understanding of how ICT can play a pivotal role in serving Corporate Malaysia.
b) C-Level Programme – Breaking the Verticals & Embracing Integration
PIKOM will specifically look to lead and host key industry leaders within Corporate Malaysia as part of the endeavour to make ICT more inclusive and appealing within the business environment. Exclusive C-level, Executive Immersion Programmes will be tailored for PIKOM members to learn, experience and explore business values, opportunities and insights in the Silicon Valley and similar technology-driven economic 'hotbeds' at international sites.
c) Rebranding Retail – Introducing PIKOM Fair 3.0
The yearly PIKOM fair will be re-invented, bringing it to a new level of excitement and relevance to include the corporate business requirements.
The new and improved PIKOM Fair 3.0 will have notable differences from its conventional retail, cash and carry affair. PIKOM Fair 3.0 is a continued evolution from its initial form to exude a new level of sophistication and innovation – showcasing the trends and thought leadership that ICT will drive across the key Malaysian industries
General ICT Growth in 2016
"Despite various challenges faced in the external environment, PIKOM remains cautiously optimistic that the industry will grow by 12-14% in 2016. The impact of GST will be less apparent as the market has adjusted and accepted it as part of the cost of doing business. Growth will come from areas such as cloud computing, Mobility, Big Data, eCommerce, online transactions and IoT etc." – Chin Chee Seong, Chairman of PIKOM
About PIKOM
PIKOM, THE NATIONAL ICT ASSOCIATION OF MALAYSIA is the association representing the information and communications technology (ICT) industry in Malaysia. Its membership currently stands at over 1,000 comprising companies involved in a whole spectrum of ICT products and services which commands about 80% of the total ICT trade in Malaysia. PIKOM works to improve the business climate in the interests of all its member companies and to promote industry growth in line with national aspirations. PIKOM's membership is open to all Malaysian companies who supply ICT products and services in the computing and telecommunications industries. However, non-ICT companies are also welcome to join the Association as associate members.