Outsourcing Malaysia plays an important role in developing the nation's outsourcing and business services industry.
Outsourcing Malaysia (OM) was the first chapter of PIKOM and was formed in 2006 with the aim to promote and develop Malaysia's outsourcing services industry as a global hub for high-value outsourcing. "OM plays a pivotal role in shaping and developing the country's outsourcing and business services industry," says the Chairman for OM, Cheah Kok Hoong. "Our vision to make Malaysia as the global business services hub," he adds. The founding of the Chapter was supported by the founding partner, Malaysia Digital Economic Corporation (MDEC) and spearheaded by a group of prominent industry leaders from the global services industry.
The Chapter has also formed strategic partnerships with i2M Ventures Sdn Bhd, CCAM and other agencies to further strengthen this industry. The focus of OM is on enabling both buyers and providers to work together on addressing service needs within the aegis of global best practices and competencies.
The Chapter has 130 members and its role as the voice of the country's outsourcing services industry is recognised by the Government.
When outsourcing first made its debut in Malaysia, it was mainly concentrated in the low-value outsourcing industry such transaction processing, payroll processing, supply chain management and customer contact centre. Over the years the industry has evolved from low-value to mid-value and high-value outsourcing industries like Banking, Finance, Services and Insurance (BFSI), market research, legal services and engineering R&D and product design. "We are encouraging our members to move up the value chain to high-value outsourcing industries because that's what will push us to become a developed country with high income," explains Cheah.
He cited the Government's efforts to promote itself as a regional aerospace hub as an example of attracting high-value outsourcing industries in Malaysia. "The aerospace industry would involve a lot of work in engineering and R&D, which means we will need more engineers and PhD post grads to do research." Even at the technical level, the industry would require highly skilled technicians for maintenance and repair work. At present, there are more than 500 Global Business Services (GBS) companies in Malaysia, including those from MNCs and local players, informs Justin.
OM remains the most active Chapter in PIKOM. And it is always looking at ways to increase its membership. It pays to be a member of OM. One of the benefits is that it provides market access to its members. OM is the single point of contact for global buyers to reach out to Malaysian outsourcing providers. For outsourcing providers, especially local players, OM gives them global visibility and exposure and adoption of global best practices and how to enhance their competitiveness. "We work closely with the Government and MDEC which is promoting Malaysia as a GBS hub. We bring members to meet buyers overseas and arrange a business to business (B2B) session for them," explains Cheah.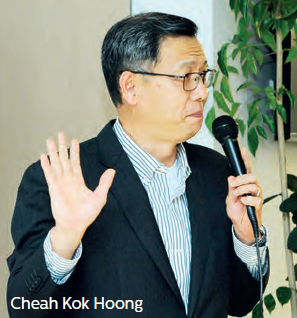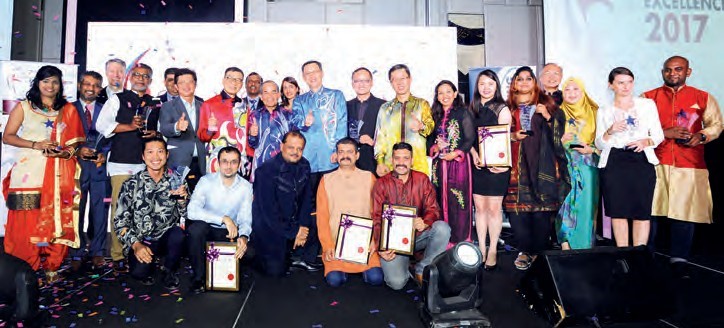 OM also produces invaluable reports that serve its members. So far OM has produced four research reports which provide invaluable knowledge and insights into the local outsourcing industry for members. The earlier reports focussed on the status of the vendor (sellers). The latest report, Global Business Services Outlook The Buyer's Perspective May 2015 is different as it focuses on what the buyers are looking for. The comprehensive report took nearly a year to complete, highlights the opportunities available to Malaysian service providers in the industry.
According to this report, Banking, Financial Services and Insurance (BFSI) continues to be the biggest contributor to the GBS market. This is followed by manufacturing, telecom and retail. The next growth phase in GBS will be in sectors such as government, healthcare, tourism and hospitality. OM's research also indicates that mobility, cloud computing, big data analytics and convergence will be the four key trends that drive market demand and push the service providers to innovate and create competitive differentiation. It is hoped that this report will enable local players to formulate strategies that will enable overall growth of their market.
"We hope to see local outsourcing players who will be able to compete globally. When you think of a Malaysian success story, the one that comes to mind is Scicom, which is a legend among local outsourcing companies. It is listed on the main board of Bursa Malaysia and some of its customers are Fortune 500 companies," says Cheah.
Having the right talent is one of the most important aspects to grow the local outsourcing industry. OM is also involved in talent development initiatives. In line with this, OM, in partnership with Talent Corp and MDEC, trained and placed 267 final year undergraduates. The students were put through an intensive 12 day training programme. There were then placed on a six month internship with some of the member companies. "What we did was to reskill them to prepare them for the GBS industry," says Cheah. "Some of them have already been offered employment."
OM also offers forums and conferences or what it terms as "Thought Leadership". A major event OM holds annually is the Smart Sourcing Summit which will be held in October this year. This is the eighth year that this conference is being held. It is a full day event with the conference during the day and the dinner and awards ceremony held at night to recognise industry players. Besides this, OM also works with many public and private sectors to collaborate with other initiatives.
Global Business Services Outlook reports that the GBS market in 2014 was USD670 billion. Asia Pacific got the lion's share of the business with USD240 billion or 36% of the business. Out of this figure Malaysia's share was only USD4 billion or 1.7%, which is less than Singapore's USD8 billion (3.3%) and Thailand's USD7 billion (2. 9%). The report states that, "India, South Korea, Malaysia and Singapore are expected to be the fastest growing markets in the next five years, with 'Business Services' demand growing at a compound annual growth rate (CAGR) of 10-15%."
In A.T. Kearney's 2011 Global Services Location Index, Malaysia was ranked third after India and China in terms of attractiveness for shared services and outsourcing, with Asian countries dominating the  top 10 positions on the index.
All this is good news for the future of the outsourcing industry in the country. But Cheah says more must be done to ensure that Malaysia remains attractive to foreign and local investors. "We must continue to harness our talent pool, improve our infrastructure, especially in ensuring we have faster and cheaper broadband and have a friendly FDI and most importantly domestic direct investment (DDI) policy. Right now, there are not enough incentives for DDIs to enable them to become big players in the market. I hope the new Government looks into this."