The ICT Industry in Malaysia continues to grow in size and distribution to the economy, albeit at a pace slower than the desired rate to reach 20.0% of national gross domestic product (GDP) by 2020.
As reported in PIKOM's ICT Strategic Review 2018/2019 published in November 2018, the industry grew by 10.3% year-on-year in 2017 to contribute RM247.1 billion or 18.3% to the national economy. However, this was a mere increase of 0.1 percentage points over the 18.2% share of GDP in 2016.
At this stage, it should be noted that the 11th Malaysia Plan has envisaged a growth rate of at least 17.0% per annum from 2016 – 2020 in order for the industry's GDP contribution to reach the 20.0% milestone.
Given the prevailing rate of growth, PIKOM had previously expressed doubts the industry could achieve 19.0% of the national economy by 2018. According to PIKOM's projections, this figure should reach 18.6% in 2018, 18.8% in 2019 and potentially pass the 20.0% milestone only in 2022.
It is interesting to note that research house IDC expects the industry to account for 21.0% of GDP by 2022. Nevertheless, any slowdown in the growth rate in recent times is expected to be arrested with the latest moves to develop Malaysia as a digital nation powered by Industry4RWD or smart manufacturing, the internet of things (IoT), blockchain, cloud computing and artificial intelligence. The latest developments in these areas are discussed later on this section.
Size of ICT Industry 2018
The Department of Statistics Malaysia's (DOSM) ICT Satellite Account reported the value of ICT's contribution to GDP at RM247.1 billion, comprised of ICT-GDP of RM178.2 billion and non-ICT industry e-commerce of RM68.9 billion. (See Table 1)
The ICT-GDP is the sum total of contributions by the various industry segments: ICT services; ICT Manufacturing; ICT Trade; and Content & Media while non-ICT industry e-commerce takes into account the value of retail e-commerce and B2B transactions in other industries.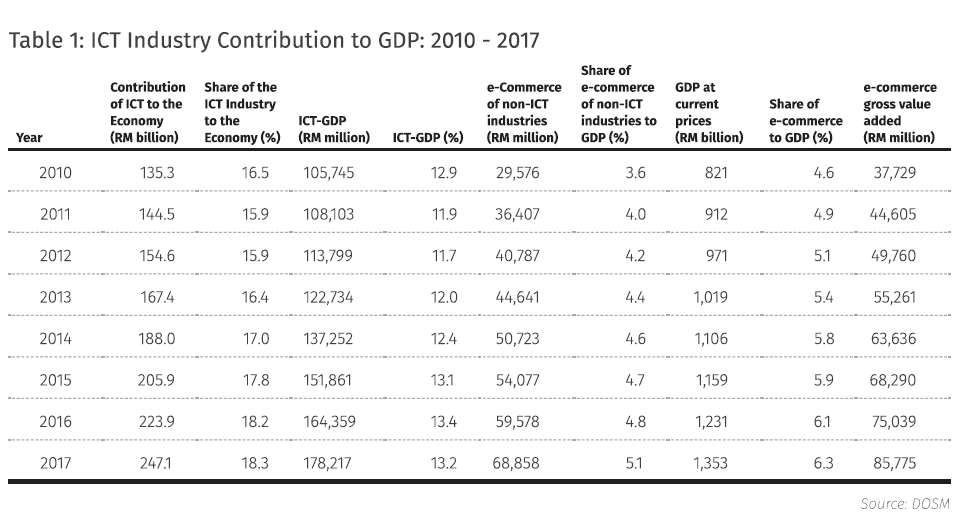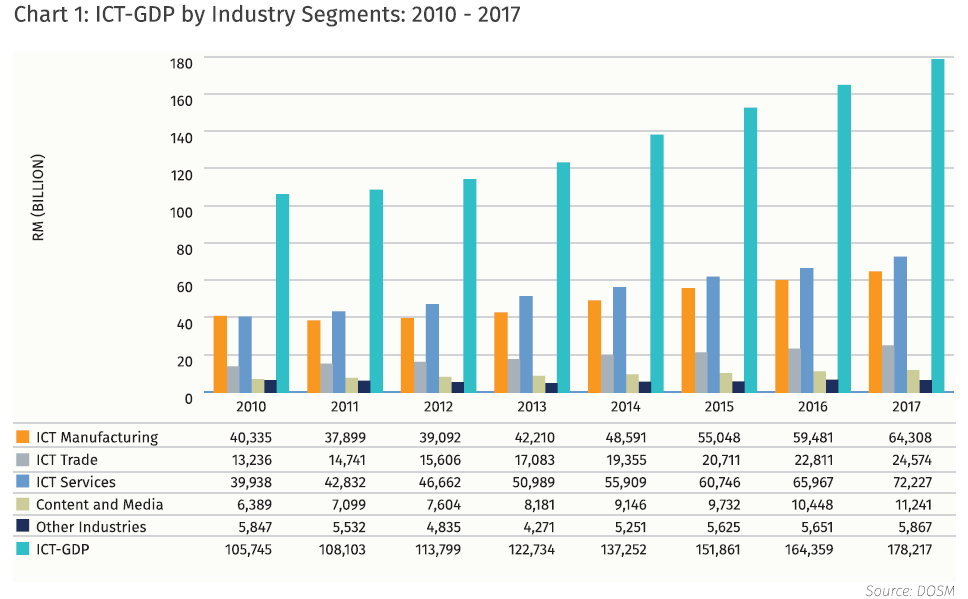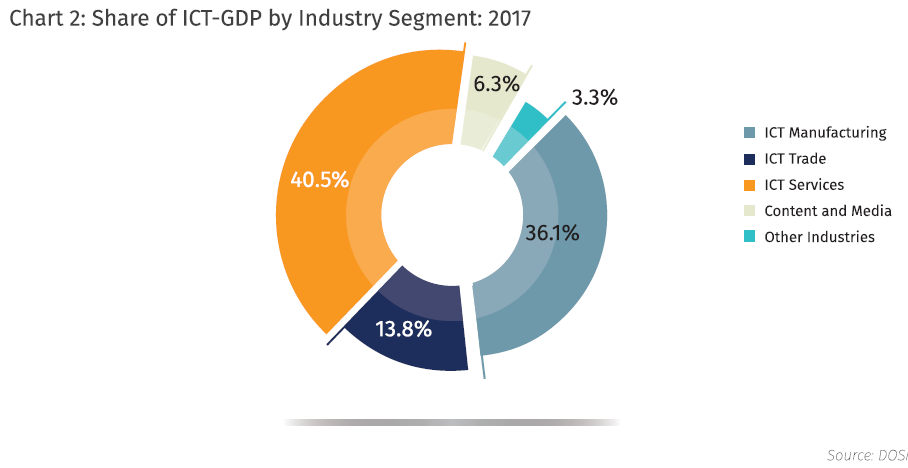 ICT-GDP by Industry Segments
ICT-GDP increased by 8.4% to RM178.2 billion from Rm164.4 billion in 2016. Chart 1 shows the value of the industry segments from 2010 to 2017. Chart 2 depicts the shar of contribution to ICT-GDP by the respective industry segments in 2017.
The e-commerce gross value added grew by 14.3% to RM95.8 billion in 2017 from RM75.0billion in 2016, with non-ICT industry e-commerce the main contributor at RM68.9 billion. (See Chart 3)
Employment in ICT Industry
The number of employees in the ICT industry grew by almost 2.0% from 1.07 million in 2016 to 1.09 million in 2017. ICT workers are those working in the four ICT-producing industries: ICT Services; ICT Manufacturing; ICT Trade; and Content and Media.
ICT Manufacturing employed the most people at 411,000, representing more than a third of the total ICT workforce. This was followed by ICT Services with 301,000, ICT Trade with 224,000 and Content and Media with 155,000. (See Chart 4 and Chart 5)