Progenet Innovations Sdn Bhd has, within 11 years, made a name for itself as the go to company that provides a comprehensive range of cloud services.
For a relatively young company, Progenet has created a record: it has become the first cloud data centre in Malaysia with the opening of the Progenet Data Center.
The state-of-the-art Progenet Data Center is carrier neutral and can offer high performance, scalable data center solutions, customised to fit customer requirements with net usable space of 7,000sqft per floor.
"We are one of the very few companies in Malaysia that owns a data centre and provides cloud services solution." – Reuben Gerard Paul, Managing Director of Progenet Innovations Sdn Bhd.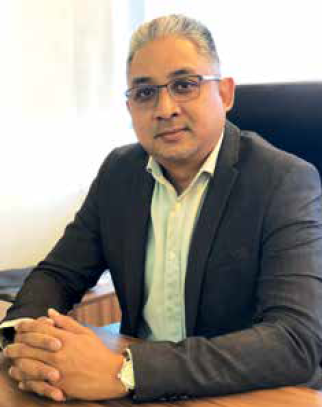 "We invested RM25 million into building this Data Center which provides a minimum of N+1 configuration and concurrent maintainability for both critical power and cooling systems which is similar to international Tier 3 standards," adds Reuben.
The Data Center will be able to support multiple clusters of high end and hi-tech data centre facilities. The facility is designed with a high-end infrastructure to support the critical data centre operations in the event of any emergencies, informs Rueben.
The Data Center, which contains highly sensitive and critical information, is very well guarded by a tight security system which boasts of zero tolerance for security breaches with such features as a single point of entry, 24/7 security facilities with controlled access and surveillance security cameras as well as perimeter hardened wall structure.
KEY INFRASTRUCTURE FEATURES OF THE DATA CENTER
The Data Center is equipped with enterprise grade such as:
Vertiv UPS with Hot swappable Modular Architecture.
Vertiv SPM Power Distribution Unit with breakers and Branch Circuit Monitoring for each individual rack.
Vertiv In Row Precision Cooling unit with Green Technology features.
Vertiv Containment system to optimize energy consumption by separating hot & cold aisle.
Comprehensive Fire Protection system with a combination of Very Early Smoke Detection System and Active Fire Gas System IG 541 which has zero greenhouse effect.
Leader in DCIM Magic Quadrant, Nlyte Data Center Infrastructure Manager (DCIM) is utilised in the Progenet Data Center.
Suprema, a Global Leader in Biometrics and Security Technology, are installed at critical points in the Data Center.
Uses LS Simple Data Cabling System, 2 dedicated pathways for redundancy are connected to every Rack.
Comprehensive Electrical System with multiple paths and switchover, allowing for concurrent maintainability.
Certified PCI-DSS data center with upcoming ISO 27001 & Tier III ANSI/ TIA-942 certification.
It is features like these which make the Progenet Data Center one of the best data centres in the region.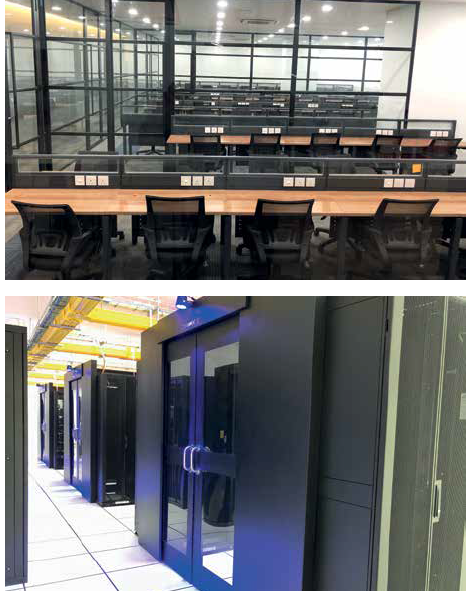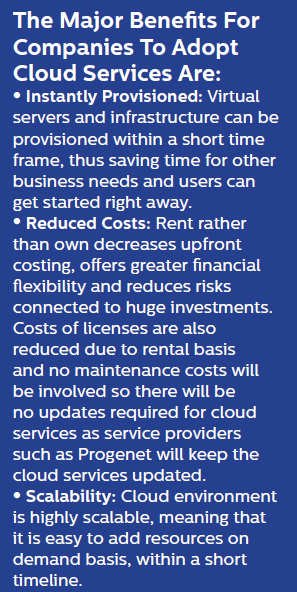 PROGENET CLOUD
More and more companies, whether SMEs or large enterprises will turn to cloud services to run their businesses. But this means extra costs for these companies as they have to invest in building the necessary infrastructure, hiring skilled IT staff to manage IT operations.
"This is where Progenet comes in. Progenet Cloud Services is our core business to help organisations ease the business operations of their services. When these companies engage us for our managed cloud services, we help reduce their cost and provide them with the ease of mind to concentrate on their business," says Reuben.
Even top MNCs are increasingly turning to companies like Progenet to manage their cloud services. "We have the skill set and the expertise to manage the cloud services and whatever problems that might arise," he adds.
Hosted in its own Data Center, Progenet Cloud offers different flavours of hypervisor virtualization, such as VMware vSphere, Microsoft Hyper-V and Nutanix AHV.
Progenet Cloud Services offers these services for both dedicated and shared offerings:
Infrastructure as a Service (IaaS)
Disaster Recovery as a Service (DRaaS)
Backup as a Service (BaaS)
Disaster Recovery Facilities
Storage as a Service (STaaS)
Consultancy
Managed Services
Maintenance and Support
Cloud Migration
For more information, call Progenet at +603 7805 7725 or visit its website www.progenet.com.my