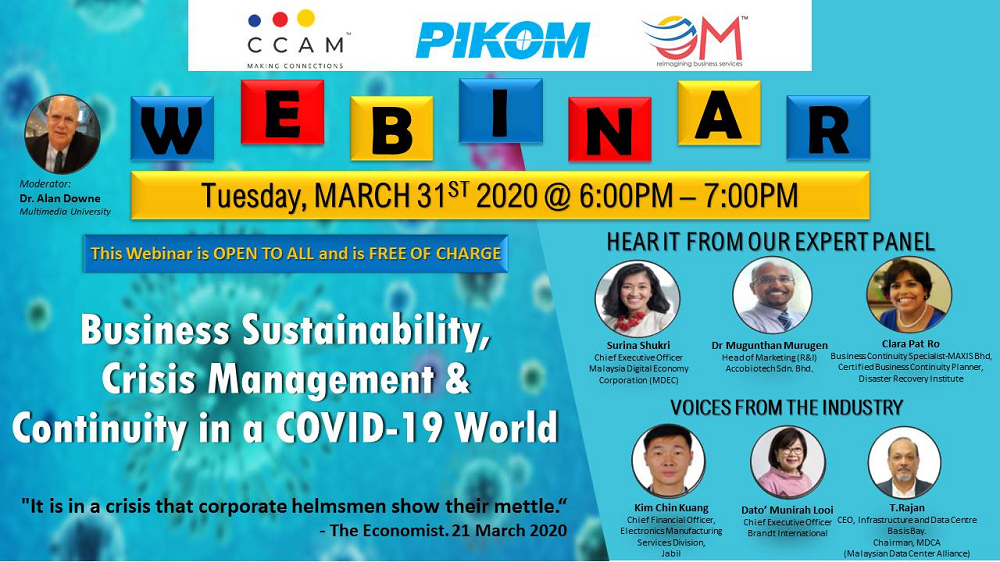 Greetings from PIKOM, OM & CCAM!
Please join us online, Tuesday, March 31st; 6-7pm for a fast-paced, dynamic panel discussion on the business and commercial impacts of COVID-19 in Malaysia.
This webinar event is OPEN FOR ALL and is completely FREE OF CHARGE.
Over the course of the hour-long webcast, we will explore current business pressures and best practices during the MCO period, the pandemic's effect on markets & supply chains; strategic planning for business continuity and many more topics of relevant to tech, outsourcing and customer experience eco-systems.
The event is moderated by Dr Alan Downe (Multimedia University).
Our panel of top experts comprises:
⭐ Surina Shukri, Chief Executive Officer, Malaysia Digital Economy Corporation (MDEC)
⭐ Dr. Mugunthan Murugen, MD, Head of Marketing (R&I), ACCOBIOTECH Sdn Bhd
⭐ Clara Pat Ro, Business Continuity Specialist at MAXIS Bhd and Business Continuity Planner at the Disaster Recovery Institute.
The event will also include a "Voices from Our Industry" feature during which three industry leaders will drop by to engage with the panel, sharing personal experience, best continuity practices and future business concerns. We will be pleased to welcome Dato' Munirah Looi (Brandt International), Kim Chin Kuang (Jabil) and Rajan Seenisavan (Basis Bay).
Please register right now by clicking the link at https://zoom.us/webinar/register/WN_UaGQ0iOrT3O33R6VxtpQ6w
The event will proceed completely online through the ZOOM platform and you will be able to join from any remote location that has Internet connectivity. There is no need to travel or congregate in person with others.
Once you register using the link above, ZOOM will send you a special code that you can enter in your browser at 6pm on March 31st, to be taken to a "virtual auditorium" to watch the discussion and pass any written questions to the panelists.
This production is a joint initiative of PIKOM (National Tech Association of Malaysia), OM (f.k.a. Outsourcing Malaysia) and the Contact Centres Association of Malaysia (CCAM), Hope to see you online!!
PIKOM, OM and CCAM, advise everyone to stay up-to-date and informed about the COVID-19 health crisis. You are encouraged to track the latest news, statistics, prevention guidelines and even seek real-time text-chat advice at the Official Consult Doctor/DoctorOnCall platform available through the Malaysia Ministry of Health portal at moh.gov.my, http://www.moh.gov.my/index.php/pages/view/2274
#StaySafe
PIKOM & OM Secretariat