It is the platform for them to grow their market as retail growth has stagnated while online growth is getting bigger.
E-commerce is the future and there is no escaping it. "All new growth in retail is coming from online sales. Online sales are getting bigger and bigger," explains Ganesh Kumar Bangah, PIKOM Chairman and the Chair of the E-commerce Malaysia Chapter. He says that in the developed countries about 20% of the retail sales is via e-commerce whereas in Malaysia it is at 5% and growing. "If you have a physical store, you need to go online," he advises.
Does this mean that in the future e-commerce will 'kill off' physical stores? Ganesh does not think so. "The online and off line (physical stores) shopping are different experiences. There will always be people who like to walk into a store, touch and feel the merchandise and have face-to-face interaction with sales people. Physical stores or offline shopping is an experience that involves the emotions of the buyer. Shopping malls will have to change their concept and adapt to become more of an experimental and emotional experience for the shoppers. And anyway, even in physical stores, e-commerce makes its presence felt as the transaction will be done using mobile wallet and various other cloud services will be used to keep track of sales item, stocks, etc," explains Ganesh.
When compared to developed countries, the e-commerce penetration in Malaysia is still small, but Ganesh sees the Malaysian market as ripe for growth.
However,  do not expect Malaysia to turn into an e-commerce hub overnight. "It will take some time," he cautions. "Five years ago the e-commerce penetration in Malaysia was only 2%; today it is 5%.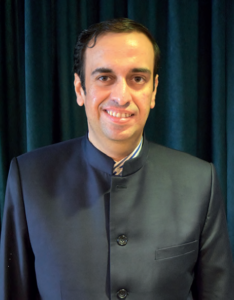 "FIVE YEARS
AGO THE E-COMMERCE
PENETRATION IN MALAYSIA WAS ONLY 2%; TODAY IT IS 5%. WHAT IS MORE IMPORTANT IS THE UPWARD TREND. MORE
MALAYSIANS ARE BUYING ONLINE."
– Ganesh Kumar Bangah, PIKOM Chairman and the Chair of the E-commerce Malaysia Chapter
What is more important is the upward trend. More Malaysians are buying online." He cites some figures to support his claim: The e-commerce industry in Malaysia is expected to grow by 12.1%, from RM74.6 billion in 2016 to an estimated RM83.6 billion in 2017.
One of the most important online sales events, which has been held every year for the past four years, is the #MYCYBERSALE. This year was the fifth #MYCYBERSALE which was held from 3rd to 7th September 2018. This year also marks the second time that PIKOM is organising the online sale event with MDEC (Malaysia Digital Economy Corporation). The huge success of the #MYCYBERSALE last year was the biggest achievement of the E-commerce Chapter, says Ganesh. One of the biggest challenges faced by e-sellers in Malaysia is 'demand generation'. #MYCYBERSALE created that demand and one of the effects of this was that even after the sale ended, consumers who bought from the e-sellers, kept going back to them.
#MYCYBERSALE was started by MDEC who, over the years, helped to grow the business generated by the event. In 2014, the business generated was RM67 million Gross Merchandise Volume (GMV). In 2015 it was RM117.7 million and in 2016 it reached RM211 million GMV.
When MDEC announced it wanted a private sector as a partner promoter, PIKOM took up the offer. Ganesh explains the reason why PIKOM wanted to be the driver behind #MYCYBERSALE. "One of the reasons we got involved was because we are vendor neutral. The event has to be organised by someone for everybody — in other words, it should be handled by an organisation that represents the industry and, of course, who better than us?"
PIKOM also promised MDEC that it would increase the number of merchants participating in the cybersale and organise the event at half the cost. Both the promises were kept. Figures from the #MYCYBERSALE 2017 showed the number of merchants had increased from 600 in 2016 to 1,007 with sales reaching RM311 million GMV. This was a 50% increase over the year before. Of this, RM39 million was from export derived from shoppers in 26 countries. Forty per cent of the event was funded by the private sector.
Target for #MYCYBERSALE 2018 is RM370 million, with RM50 million as export revenue and targeting 1,200 merchants. This year's theme is 'Driving growth through omni channel commerce'. #MYCYBERSALE 2018 aims to encourage micro-enterprises to adopt an omni channel commerce for their businesses to reduce dependency on social media private messaging sales.
The e-commerce penetration among SMEs in Malaysia is slower than the consumer penetration, discloses Ganesh. He feels that one way the SMEs can increase their sales online is by investing more in online. Just having their products on Facebook and Instagram is not enough, he warns. "How do you grow your business online? There is a methodology in increasing one's online business. This is not the same as digital marketing, and there are many in this country. We need more growth marketers who specialise in getting new consumers."
Another thing which Malaysian e-commerce needs more of is local enablers such as logistic providers and payment gateways. "Most of the marketplaces are controlled by foreign players such as Lazada and Shopee. We need parts of the eco-system that we own and control," says Ganesh.
One way to solve these problems would be for the Government to step in to help with capacity building in e-commerce by providing more education and training in this sector. This will enable businesses, especially the SMEs, to increase their depth of knowledge in e-commerce, suggests Ganesh.
"E-commerce to retail is Industry 4.0 to manufacturing. You cannot run away from it. We must be prepared for the day when almost everything involves e-commerce," says Ganesh.