Will e-commerce usher in the end of traditional retailers? no! studies show that people still like to go to a physical store. However, in order to thrive, businesses must have an online presence.
Over the last few years, the news for traditional retailers have been gloomy in the Us. Some have closed down many stores as customers no longer shop at physical stores while others are struggling to attract shoppers, especially younger shoppers. despite this bleak outlook, studies done in the Us show that a majority of Us shoppers still prefer to make most of their purchases in-store as they like to see, touch and feel the products as well as take them home immediately.
"E-commerce is not going to make the physical stores go away because that's where you actually meet and interact with customers." – Ganesh Kumar Bangah, Founder and executive chairman, commerce.asia.
There is no denying that the trend of shopping online is very popular, especially with the millennials and online shopping is expected to grow even bigger. Where does this leave traditional retailers? can they afford to ignore the online platform and concentrate only on their physical stores? do they jump into the online bandwagon and close down their stores? How are Malaysian sMes handling this situation? What should they do?
These were some of the questions that the panellists at the Malaysia SME Business summit: transform, innovate & elevate organised by the Chinese Chamber of Commerce and industry of Kuala Lumpur and selangor (KLSCCCI) discussed.
Online Presence Is A Must
The topic of the panel discussion, 'the Battle Between traditional retailers vs Born digital in the e-commerce arena – strategies for super Grow Your Business' touched on these pressing issues. The panellist were lim Kim Heng, founder and managing director of senheng, andy chin, marketing Vice-President of Mr diY, Zed li, head of business, shopee Malaysia and Ganesh Kumar Bangah, founder and executive chairman, commerce. asia. the moderator was Teoh Kok Limm chairman of Digital Economy Committee KLSCCCI.
To not have an online presence is to face diminishing sales. that was the experience of lim Kim Heng of Senheng who recalled how 10 years ago when people advised him to hop on board the e-commerce wave, he refused to do so because he believed in the brick and mortar business.
When the sales of his company dropped for three consecutive years until 2016, he began to worry and investigated where his customers had gone. "they had moved to shop online." towards the end of 2016, he attended a business conference headlined by Jack Ma, founder of ali Baba, and learned about the next wave of retail which is a combination of online and offline presence with major emphasis on logistics to get the goods to the customers.
It was after the conference that senheng decided to have an online presence (along with their physical stores) and the sales have gone up ever since. "We started our online platform in 2017 and the sales went up. in fact, our business grew 26% year-on-year in 2018."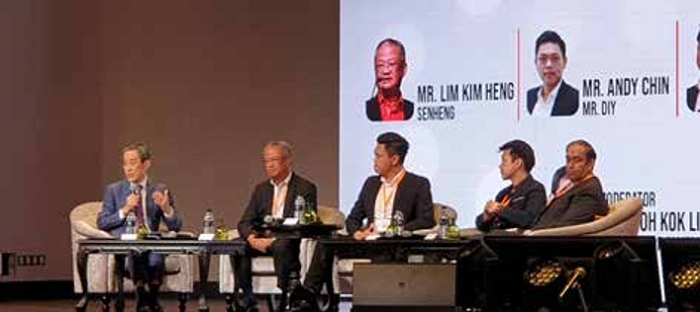 Problems SMEs Face In Setting Up Online Presence
Companies that want to have an online presence need to do it the right way, said Andy of Mr DIY. "Some small companies think it's easy to have an online presence. They give this job to the digital marketing department or the IT department. But going into e-commerce involves a lot of things: it's a whole new business structure where one has to think of the logistics of having different departments such as a warehouse operation department, customer service, delivery, etc."
Companies must also be prepared to spend money on setting and running the e-commerce section. "Most sMes don't understand how much capital to invest in running their e-commerce platform," he said.
Companies also need to carefully analyse what products to offer for sale on their e-commerce platform. Products that sell well in the stores will not necessarily sell well online.
Get Help in Selling Online
It can be a daunting task for small businesses to make their presence felt online. "Many SMEs give the excuse that they don't know how to set up an online platform. there are two ways: one is the hire and trade method and second is to outsource your online platform," explained Ganesh of Commerce.Asia.
"In the hire and trade method, you can hire a team of people who specialise in selling online and use their services to sell your products online."
"The second is to outsource your online platform to companies that specialise in selling online. You give them the products and they manage all aspects of your online business, from developing an online store to managing product sales across multiple market place, including warehousing, delivery, payment, marketing and order management. in return the company has to share a margin of the sales with these companies."
Potential for E-Commerce in Malaysia Is Great
Shopee is a popular online platform in Malaysia. despite its popularity with Malaysians, the company is actually losing money in Malaysia, disclosed Zed li of Shopee Malaysia. "Malaysia is an immature market when it comes to e-commerce, which is just taking off. For example, when we compare Taiwan with its smaller population of 23 million to Malaysia which has a population of more than 32 million, Taiwan's e-commerce size is three times bigger than Malaysia's," said Zed Li.
Despite the losses, Shopee is looking forward to expanding its presence in Malaysia because it knows that the e-commerce market in Malaysia has lots of potential and will expand further.
Maintain Physical Store
E-commerce is not going to make the physical stores go away. They will continue to play an important role in the growth of a company's business. "You also need your own physical stores because that's where you actually meet and interact with customers to know what their preferences are and to get immediate feedback," said Ganesh.
Businesses Must Have Own E-Commerce Sites
Ganesh also stressed the importance of SMEs to have their own e-commerce site. "In the Us, amazon only captured 38% of the e-commerce market while 62% of the market share is held by independent e-commerce platforms. treat these major platforms such as Lazada and Shopee, as another outlet to sell your goods," he said.
"Think of these platforms as a mall. People like to go to the malls because there's a wide variety of goods for them to choose from," he added.