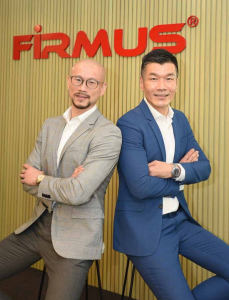 Alan See and Eric Yeow left behind their comfort zone and ventured into the trials company they founded, Firmus Sdn Bhd, is today one of the top cyber security companies in the country. They speak to My.IT about the challenges they faced.
By Sharmila Valli Narayanan • Photos by YC Chu
One of the the most difficult things in life is to move out of one's comfort zone. Why rock the boat when one is comfortable, doing well and happy? While there is nothing wrong in wanting to be in one's comfort zone, stepping outside of it can be risky and when done right, it can also bring great rewards.
This was what Alan See and Eric Yeow discovered when they made the momentous decision to leave their secure, well paying jobs to chase their dreams of becoming tech entrepreneurs. Eleven years ago in 2008, they started their company Firmus Sdn Bhd. In Latin the word and secure, among other things. Alan See is the CEO and co-founder while Eric Yeow is the Vice President and co-founder.
Today, their company Firmus Sdn Bhd, is recognised as the industry leader in cyber security. The company also offers a complete cyber security testing services with advanced testing tools. It also holds a range of accreditation that includes CISSP, CISA, GIAC-GPEN and CEH.
What made both of you leave your lucrative corporate careers for life as entrepreneurs?
Alan: It was always at the back of my mind mind that one day I would start my own business. Both of us came from backgrounds where our fathers were involved in business. My father had a small business and when I started my career, although I was an IT graduate, I chose to go into sales because I wanted a background in the business part of the industry. I was 40 and at the peak of my corporate career. I said to myself, if I did not take the plunge now to go into my own business, then when?
Eric: I grew up with a father who ran several businesses. I lost my dad when I was nine and his love for business must have passed down to me because I always knew that I would one day be running my own business. When the opportunity presented itself, I said, why not?
How did both of you become partners?
Alan: In business, the most important thing is to choose the right partner because I have seen businesses fail because of the wrong partner. I know Eric because we worked together. At 30, Eric was 10 years younger than I when we started, but I had full confidence that he was the right business partner for me.
Eric: I've known Alan since 1999. One of the reasons I had the confidence to go on my own was because I knew I had the right partner in Alan. He is also my mentor because he helped me grow in my career and as a person. The experience of working with Alan made me realise that we make a good team and can run a successful business. I have seen many people start their business with less and we were starting with many positive factors.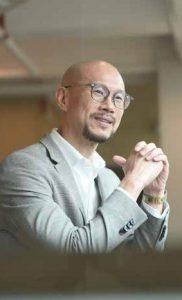 "Clients know we are not just after the sales. The finished product and quality are more important to us." – Eric Yeow, Vice President & co-founder.
What were some of the challenges you faced when you first started in 2008, a challenging year because of the bleak global economic outlook?
Alan: There were a few things which worked in our favour when we started – for example, we had a sufficient customer base to start with. Of course, some of the financial institutions were hesitant to work with us because we are a small unit compared to my previous company. Banks have the budget and they prefer to do business with large, established companies. They weren't sure we would be around for long because small businesses open and close down. But we managed to convince them that we are here for the long haul and they overcame their hesitancy and came on board, which was great because it helped with out second factor, out cash flow.
We worked hard to maintain a healthy cash flow. And most importantly, we had a good team of people whom we worked hard to train and retain. Getting a good team is an ongoing challenge for any company and we have been blessed.
As entrepreneurs, we have to be aggressive in chasing business. For us, this was especially true when we started in 2008 because of the economic downturn. We went the extra mile to see as many clients as possible and to build a good working relationship with the clients we had. The first year was the toughest but we prevailed and now here we are, into our 11th year!
Eric: We were very professional in our work. Whenever our clients faced a problem, whether big or small, we were there for them with our team. We wanted to show that as owners, we care enough to be there for them and not just assign our people to service them. With us being there, we were telling our clients that their business was very important to us. That left a good impression on the clients. It is something that we do even today.
Another big challenge was growing and developing our team. A company wins or loses on how good or bad its people are. They are the ones who will be facing the clients, giving the first impression. We are thankful we have good people.
In the beginning, it was a challenge to impart our culture across the company. Although we were a small company, we felt it was important to send the right message to our team about our company's ethos: how we interacted with each other — always with civility and thoroughness and we expect them to do the same when they are with our clients. We emphasized the importance of conducting the business with professionalism and integrity. Managing people and the kind of company culture we want to establish is not easy as it's a 24/7 job.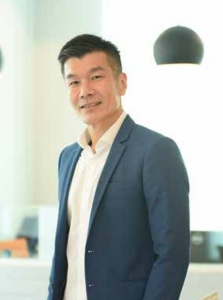 "In business, the most important thing is to choose the right partner because I have seen businesses fail because of the wrong partner." – Alan See, CEO & co-founder.
For a young company, you have done very well. Firmus has won major awards like 2012 Info Security Services Provider of The Year and 2016 Cyber Security Company of the Year. Alan won the 2017 Cyber Security Professional of the Year. What are the reasons for Firmus' success?
Alan: We are passionate about our business and are never complacent. We see our clients very frequently. We are also meticulous with company operations to ensure we improvise and move with the new technology when the need arises.
With these awards, we competed against several big names. As a well sought after recognition in the industry, the judging criteria was similarly rigorous and detailed. During the submission and presentation to the judges we managed to convince them, especially in terms of our growth, which is one of the important criteria for the judges. Another factor being evaluated was on the contribution towards the Malaysian cyber security industry. Firmus has done a lot of training and workshops on security awareness, for senior management and board members from the corporate sector, to just name a few.
Finally, the judges were also impressed with some of the cyber security projects we had worked on. For example, we had worked on one of the largest data loss prevention (DLP) projects in the country. Winning these awards is something we are proud of.
Eric: Another thing which differentiates us is that we are very careful in the selection of services and solutions that we offer our clients. There are many IT companies today that try to sell customers everything. We are a boutique cyber security house and sometimes if the client asks us to do things outside of our area of specialisation, we politely advise them that their interests are better served by others that specialise in those areas. The fact that we are willing to walk away from deals if we are convinced we cannot do it successfully has enhanced our reputation and credibility. Clients know we are not just after the sales. The finished product and quality are more important for us.
Firmus CIO Cyber Security Conference
Leveraging on their close rapport with their clients, FIRMUS began organising their annual FIRMUS CIO Cyber Security Conferences since 2011. The event was unique back then as it targeted only senior decision makers with the objective to bring new and exciting security sharing to busy corporate executives. By 2018, the 7th FIRMUS CIO Cyber Security Conference was held in Jakarta, Indonesia and had grown to accommodate more than 60 CIOs / CISOs from large enterprises and MNCs. The conference was also supported by the PIKOM CIO Chapter of Malaysia. This year, the 8th Firmus CIO Cyber Security Conference will be held in Hanoi, Vietnam, from 1-3 August, 2019. An interesting line-up of speakers will present talks on the most pressing issues, challenges and trends facing the cybersecurity industry.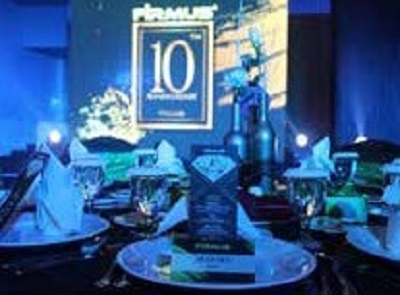 The ballroom was beautifully done up for the Firmus 10th Anniversary Gala Dinner.

The conference at the 7th Firmus Cyber Security Conference in Jakarta.