CREATING A NATION OF ENTREPRENEURS
The newly revived Ministry of Entrepreneur Development (MED) under its dynamic Minister, Dato' Seri Mohd Redzuan Md Yusof, assumes the leadership role in developing entrepreneurship and SMEs in Malaysia. He talks to Sharmila Valli Narayanan about the National Entrepreneurship Framework and the role of tech entrepreneurs in driving the growth of the Malaysian economy.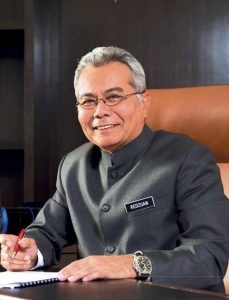 Dato' Seri Mohd Redzuan Md Yusof was a successful entrepreneur before he became a minister. He brings with him his years of experience as an entrepreneur to the new Ministry of Entrepreneur Development (MED).
Born into a poor family, he learned the two qualities important for entrepreneurs, resilience and discipline, at a very young age. "It was a difficult life and I had to help out my parents from a young age by doing odd jobs to survive," he says looking back at his tough childhood. He is grateful for these hard lessons learned from the hardship because they instilled in him a drive to succeed which was very useful, especially when he left his well paying corporate job and plunged into the world of entrepreneurship.
He firmly believes that entrepreneurs are the engine of growth and he wants to create the necessary conditions for entrepreneurs to thrive in this country.
THE NATIONAL ENTREPRENEURSHIP FRAMEWORK (NEF)
The NEF was launched by Dato' Seri Redzuan on 22nd November 2018. This document sets the broad parameters of the National Entrepreneurship Policy (NEP) which his Ministry hopes to finalise this year. He explains what the NEF is all about.
"With six key development targets, four strategic thrusts and 21 strategic objectives, the NEF sets the direction for the development of a cohesive, conducive and integrated entrepreneurship ecosystem in Malaysia. This may be a coincidence, but N.E.F also stands for Nurture, Enable and Facilitate, the three verbs I consistently use to describe what my Ministry should do when it comes to developing our entrepreneurs," he says.
"The NEF is available on our website and is now open for comments. I'd take this opportunity to welcome readers to also provide their views and feedback on NEF at www.med.gov.my. As NEF will set the parameters for the National Entrepreneurship Policy, so, if one wishes to get an idea of how the policy document will look like, the NEF would be a good place to start," adds Dato' Seri Mohd Redzuan.
HELPING THE TECH ENTREPRENEURS
Innovation-driven entrepreneurship, including tech-entrepreneurship, will be fundamental in driving Malaysia's economic growth in the future, says Dato' Seri Redzuan and his Ministry will place special emphasis on this segment of entrepreneurs.
As part of the NEF, the Ministry has outlined several strategies to facilitate tech entrepreneurs. "This is of course still evolving, and we are open to views from everyone, including your readers," he explains.
Some of the strategies that have been identified include:
Create and develop an ecosystem that enables Innovation-Driven Entrepreneurship.
Provide the right climate for tech entrepreneurs to adopt and incorporate the latest exponential technological trends (Big Data, IoT and AI) and psychological tools (innovative business models), as well as harness the power of the crowd (crowdfunding, community building).
Strengthen all stages and phases of the start-up ecosystem, beginning from ideation to start-up to scale-up.
Create an innovation supercluster for sectors of the future, for example, Mobility, Clean Energy, Smart City and Healthcare.
Collaborate with the relevant stakeholders to ensure that there are adequate alternative funding mechanisms for entrepreneurs and SMEs.
He points out that under Budget 2019, the Government has announced a number of initiatives that are tech entrepreneur-friendly, such as:
Allocation of Venture Capital amounting to RM2 billion to create more opportunities for tech entrepreneurs;
Improved broadband access in rural areas within the next five years; and
Tax incentives to encourage businesses to adopt digitalisation towards Industry 4.0.
He hopes that such measures will help create a vibrant tech hub in Malaysia.
The National Entrepreneurship Framework is outcomes-based. It contains six bold, specific and measurable targets, namely:
Boost SME contribution to GDP to 41% by 2020
Create 1 million jobs in the next five years
Produce 50,000 entrepreneurs to generate 200,000 jobs a year
Train 50,000 graduates a year in entrepreneurship
SME export contribution at 23% by 2020
RM50 billion turnover for cooperatives by 2020
CHALLENGES FACED BY LOCAL ENTREPRENEURS
Financing remains a key challenge faced by entrepreneurs. This is mainly due to limited access to financing options, as most traditional methods of financing still require collateral, credit history or sales data. Dato' Seri Redzuan says that entrepreneurs today do have more options than in the past thanks to the introduction of alternative financing methods such as crowd funding and peer-to-peer financing.
He cautions entrepreneurs from depending solely on Government funding. "The Government today is no longer in a position to splurge cash on entrepreneurial projects. Whatever limited funds that are available, we will disburse these based on needs, merits and the viability of a particular proposal.
If a proposal comes our way, we must be able to see the specific deliverables and outcomes of that proposal. We must be convinced that the proposed entrepreneurial project or activity can contribute to the overall economic development of the country. We will also monitor and track the implementation of these projects to achieve the intended outcome," he says.
The second challenge faced by local entrepreneurs is in getting the right type of training and developing an entrepreneurial mindset in the ecosystem. "And third, as a country, we need to create an ecosystem that is entrepreneur-friendly. We need to ensure that GLCs do not operate in the same sphere as the SMEs. We do not want our GLCs crowding out, or competing with, our SMEs. We also need to pursue procurement policies that are friendly to our local entrepreneurs and SMEs," says Dato' Seri Redzuan.
TRAINING OUR ENTREPRENEURS
Providing training for local entrepreneurs is a subject close to the Minister's heart. "Our training programmes must serve one purpose: to inculcate a culture of entrepreneurship and innovation. We need to build a nation that is fuelled by entrepreneurial behaviour and mindset. That is the bigger picture," he says.
He continues: "We need to train entrepreneurs to enable them to scale up and compete globally. If we look at the current statistics, SMEs exports' only account for 17.3% or RM 167.4 billion of our total exports in 2017. This needs to change for the better."
MED, through its agencies, provides training to equip entrepreneurs with the right skills and expertise. These training programmes include the following:
Going Export Programme (GoEx), Business Linkage Programme (Bling) and the Bumiputera Export Promotion Programme (GEB) to assist SMEs to penetrate the international market
Programmes such as Tunas Usahawan Belia Bumiputera (TUBE), Go eCommerce, and DFTZ to strengthen SMEs involvement in e-commerce and online business initiatives
Financial and credit management programmes
1-InnoCERT certification programme aimed at fostering innovative enterprise through harnessing and intensifying home-grown innovations and R&D
PREPARING LOCAL SMEs FOR INDUSTRY 4.0
While acknowledging that our local SMEs are somewhat left behind and have some catching up to do, he insists that the scenario may not be as dire as having to catch up with the rest of the world.
MED has a number of programmes that are geared towards enhancing SMEs' competitiveness, including in terms of transitioning towards Industry 4.0. Some of these programmes are as follows:
SME Capability Programme: enhances SMEs' capabilities in areas such as business strategies, innovation, productivity and human capital development.
INSKEN Business Scale-Up Programme: provides comprehensive entrepreneurial skills and knowledge to develop sustainable businesses.
SME Expert Advisory Panel Programme (SEAP): provides technical advisory services to SMEs through on-site assistance by industry experts.
Advanced Virtual Incubation Service (ADVISE): supports start-ups by providing comprehensive support services and shared facilities.
Technology Park Malaysia (TPM) Accelerator Programme: nurtures start-ups from idea to commercialization through comprehensive and integrated handholding programme.
INCREASING SMEs CONTRIBUTION TO THE GDP
In most developed countries, the SMEs contribution to the GDP is way above 70%, whereas in Malaysia in 2017 the SMEs contribution to the GDP was 37.1%. MED has set an ambitious target. "We wish to boost SME contribution to GDP at 41% by 2020. We also wish to see SMEs account for 23% of our exports instead of the current 17%. This expansion will not be possible without our domestic entrepreneurs assuming an integral role in producing value-added goods and services that are competitive, resilient and sustainable, not only in the domestic market but also in the global sphere," says the Minister.
Dato' Seri Redzuan also reveals that MED has an ambitious aim of creating one million jobs in the next five years. That's 200,000 jobs every year. Dato' Seri Redzuan hopes that Malaysians will participate and make full use of the programmes and initiatives by the Government for their benefits and advancements. "This Government wants to build entrepreneurs and is creating a business-friendly ecosystem for them to thrive in," says the Minister.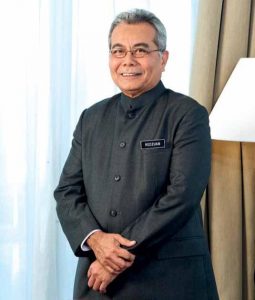 "Innovation-driven entrepreneurship, including tech-entrepreneurship, will be fundamental in driving Malaysia's growth economy in the future."