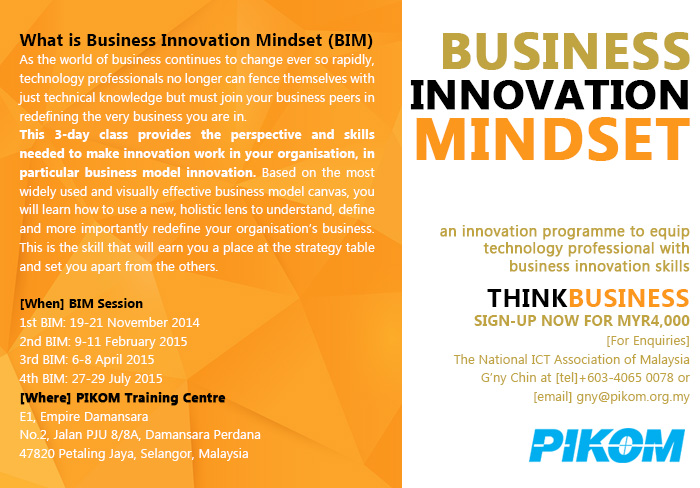 Greetings!  The National ICT Association of Malaysia (PIKOM), in collaboration with Business Technovise International (BTI), would like to invite you and your organization to the 1st Business Innovation Mindset (BIM) Course from 19-21 November 2014. This is the next level of competencies and performance session for technology professionals. Join us, sign up NOW as seats are limited.
Specifically, BIM is an innovation programme to equip technology professionals with Business Innovation skills…
What is BIM Course
As the world of business continues to change ever so rapidly, technology professionals no longer can fence them-selves with just technical knowledge but must join your business peers in redefining the very business you are in. This 3-day class provides the perspective and skills need-end to make innovation work in your organization, in particular business model innovation. Based on the most widely used and visually effective business model canvas, you will learn how to use a new, holistic lens to understand, define and – more importantly – redefine your organization's business. 
This is the skill that will earn you a place at the strategy table and set you apart from the others.

Who Should Attend
This course is for the business executive and technology professional who has to look at new business opportunities and initiatives. The discussions in class will touch on specific topics impacting technology professionals who are expected to make contributions to business, either with ideas or even actual business results.
Where and When 
PIKOM Training Centre @ E1, Empire Damansara, No.2, Jalan PJU 8/8A, Damansara Perdana, 47820 Petaling Jaya, Selangor Darul Ehsan, Malaysia; Wednesday – Friday or Monday – Wednesday, 9:00am to 5:00pm.
How
Submit the Registration Form to PIKOM Secretariat. Registration deadline is based on first come first served basis. Both Malaysian- based and overseas- based participants are expected.
We look forward to welcoming you and your colleagues to the PIKOM Business Innovation Mindset course.