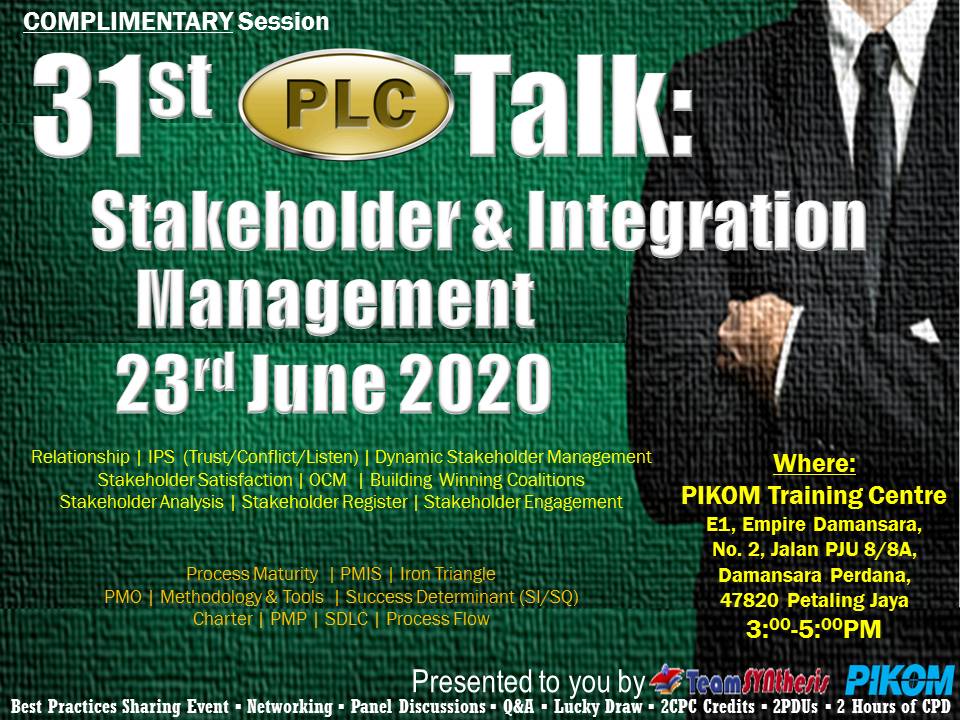 We are pleased to invite you to a specially consolidated session of the popular COMPLIMENTARY Project Leadership 4.0 Series, the 31st PLC Talk – combining Stakeholder & Integration Management – taking place on Tuesday, 23rd June 2020, 3pm, at the PIKOM Training Centre, Damansara Perdana. The earlier 30th PLC Talk scheduled for 11th March 2020 is now deferred to 23rd June 2020 due to public health interest and COVID-19 advisory.  We have also auto-transferred registered participants accordingly.
We hope to see you for this enriching afternoon of lively interaction and enlightening session, in which we will be having two Keynote Speakers delivering on Stakeholder & Integration Management in Projects, followed by a Panel Discussion. Click here to REGISTER and save your seat NOW.
What's In It For You
Keynote Speakers delivering on the topics of Stakeholder & Integration Management in Projects in the era of Industry 4.0>Golden opportunity to learn, interact and share>Chance to network and exchange ideas with fellow practitioners.
"Beware of little expenses. A small leak will sink a great ship."
– Benjamin Franklin
Tuesday, 23rd June 2020
3pm (be seated by 2:45pm)
PIKOM Training Centre
PLEASE MARK YOUR CALENDAR NOW!
Being a practitioner, as always, bring your fellow non-PLC colleagues as knowledge sharing knows no barriers and has no boundaries…
This Leadership Talk Series is a prelude to our 40th PIKOM PLC Leadership 4.0 Bootcamp, 13-17 April 2020. For more information on this, click here or Register.

*While it is a FOC event with high-quality refreshments catered for, we will, however, charge RM10 per No-Show for the cost of food wasted. Replacement participant, for the same session to avoid no-show charges, is always welcomed.

This Leadership 4.0 Bootcamp is exceptionally impactful & refreshing. Apart from the 70:20:10 formal-social-experiential learning delivery with Technical-Leadership-Strategic Thinking aspects, the 5-day commando training also covers 6th Ed PMBOK, Agile Best Practices (focusing on business agility to address exponential changes and at exponential speed), Leadership 4.0 (producing Leaders 4.0 to address the pre-requisite leadership imperatives to survive the onslaught of Industry 4.0 (i40) and PMIS 4.0.
Upcoming Courses: (you can download the respective full brochure by clicking on the link below)
1. Talk Registration (Afternoon Formal Knowledge-Sharing Event)
31st PLC Leadership 4.0 Talk, 23 June 2020 (Leadership 4.0 Knowledge Sharing) on Stakeholder & Integration
Registration details: https://docs.google.com/forms/d/e/1FAIpQLSd4a8_MbyXykWkcT3IzUd4XuPjLwMMQaL8AvGAGTmsAyKJRRw/viewform?usp=sf_link
2. Bootcamp Registration (5-day Formal-Social-Experiential Upskilling)
40th PIKOM PLC, 13-17 April 2020, Kuala Lumpur (Leadership 4.0 Bootcamp)
Registration details: https://pikom.org.my/wp-content/uploads/2021/04/Flyer-PIKOM_PLC_for_2020.pdf
41st PIKOM PLC, 13-17 July 2020, Kuala Lumpur (Leadership 4.0 Bootcamp)
Registration details: https://pikom.org.my/wp-content/uploads/2021/04/Flyer-PIKOM_PLC_for_2020.pdf

The National ICT Association Of Malaysia
Message from the PIKOM Chairman
Dear Members,
It is with much honour and humility that I accept my election to the PIKOM Council which reflects my commitment towards working in the best interests of all PIKOM stakeholders, especially, you the member.
We understand that the ICT industry in Malaysia is facing stiff challenges and is undergoing an evolution of sorts due to macro-environmental factors and new technologies emerging to the fore.
These are certainly concerns that we share with you and working with and for you, we look to chart a better course towards helping all members embrace these changes and to benefit from them.
Among areas that we will pursue include a focus on e-commerce and its potential impact on all members, thus providing greater opportunities for members. You have heard about the PIKOM Academy – training will be at the forefront in 2017 and beyond. We will also be continuing to provide thought leadership and to lobby the government for members' benefit, to expand and increase our membership base including individual members, to unearth and recognize ICT talent and innovation and more.
PIKOM is also engaging closely with other associations in the country. We are affiliated to the Malaysian Service Providers Confederation (MSPC), Master Builders Association of Malaysia (MBAM), SME Association of Malaysia (SMEAM), Malaysia Retail Chain Association (MRCA), KL Selangor Chinese Chamber of Commerce and Industry (KLSCCCI). Their members are ICT users and potential customers of yours. You will be hearing more of collaborations with these associations in the near future.
Working together as a team – united by our drive to provide the best to members, we, the Council will always work in your best interest and for the greater ICT eco-system and industry. I am delighted that we have assembled a very talented and abled team of Councillors and Advisors, who each bring their own strength, to serve PIKOM in this term.
I thank you for your continued support and also welcome suggestions and feedback as to how we can best work for and with you.
PIKOM Councillors and Advisors 2016 / 2017

NO.

NAME

COUNCIL

COMPANY

1

Chin Chee Seong

Chairman

Galasys Solutions (MSC) Sdn Bhd

2

Ganesh Kumar Bangah

Deputy Chairman

HT Consulting (Asia) Sdn Bhd

3

Danny Lee

Secretary

Epson Malaysia Sdn Bhd

4

Sean Seah

Treasurer

Bimbit.com Sdn Bhd

5

Dr Dzaharudin Mansor

Councillor

Microsoft (M) Sdn Bhd

6

Stan Singh-Jit

Councillor

IronHorse Asia Sdn Bhd

7

Christopher Chan

Councillor

Ten Ten Telecommunications Sdn Bhd

8

Jeffrey Ooi

Councillor

Celcom (Malaysia) Bhd

9

Alex Liew

Councillor

Glocomp Systems (M) Sdn Bhd

10

Dato' Seri  Ivan Teh

Councillor

Adv Fusionex Sdn Bhd

11

Ong Chin Seong

Councillor

Powerware Systems Sdn Bhd

12

Tan Chen Chiang

Councillor

MeenGi Sdn Bhd

13

KT Ong

Councillor

Dell Global Business Centre Sdn Bhd

14

Tan Hock Chye

Councillor

DataPrep Holdings Bhd

15

Dato' Latt Shariman Abdullah

Councillor

Persatuan Sukan Elektronik Malaysia (eSports)

16

Datuk EK Teoh

Councillor

Ektech Communications Sdn Bhd

17

Chan Kok Long

Councillor

iPay88 Sdn Bhd

18

Anthony Raja Devadoss

Councillor

Kelly Services (Malaysia) Sdn Bhd

19

Xavier Tan

Advisor

Extol Capital Sdn Bhd

20

Harres Tan

Advisor

Rototype International (M) Sdn Bhd

21

Lee Boon Kok

Advisor

I-Commerce Sdn Bhd

22

Wee Kee Heng

Advisor

e-Lock Corporation Sdn Bhd

23

Foo Sen Chin

Advisor

ECS ICT Berhad

24

C J Ang

Advisor

Cuscapi Bhd

25

David Wong Nan Fay

Advisor

SnT Global Sdn Bhd

26

Dato' Wei Chuan Beng

Advisor

REDtone Telecommunications Sdn Bhd

27

Derrik Khoo

Advisor

Genting Bhd

28

Woon Tai Hai

Advisor

BDO Consulting Sdn Bhd

29

Steve Hsia

Advisor

Malaysia Digital Economy Corporation Sdn Bhd

30

Dato' Ng Wan Peng

Advisor

Malaysia Digital Economy Corporation Sdn Bhd

31

Cheah Kok Hoong

Advisor

Hitachi Sunway Information Systems Sdn Bhd

Dear Valued Members,Thank you for your continued support and for the confidence that you have placed in us. As we continue to build a stronger partnership together, we fully recognize that your support and the continued trust that you place in us is the foundation of our success.
Today, we are pleased to inform you that PIKOM will be hosting the upcoming ICT Summit 2015 on 6th & 7th October 2015 which includes the combination of multiple key ICT events of PIKOM: MSC Malaysia APICTA Awards 2015 and ASOCIO PIKOM ICT Leadership Summit 2015.
These events attract regional leaders from the ICT industry and governments and expected to draw over 1,200 participants from more than 10 countries. We have obtained supported from key stakeholders including the Ministry of Communications and Multimedia, Multimedia Development Corporation (MDeC) and the Asian Oceanian Computing Industry Organisation (ASOCIO).
Our sponsorship package for the above events starts from RM20,000 with attractive benefits and entitlements to all of our interested sponsors.
We look forward to an affirmative response of sponsorship from you to make this event successful.
Thank you for your support.
Warm Regards,
Ong Kian Yew
Executive Director

The National ICT Association Of Malaysia
New Accounting Standards for Revenue Recognition
– IFRS 15 Revenue from Contracts with Customers 
– IASB Exposure Drafts on the Amendments to IFRS 15
This 2 hour session will present the overview of the new Standard on Revenue, IFRS 15 Revenue from Contracts with Customers as well as to also provide an overview and seek comments on the upcoming International Accounting Standards Board (IASB) Exposure Draft on amendments to IFRS 15 which include clarifying guidance on licenses and other relating issues that may have an impact on software companies.
Mr. Ng Swee Weng
Project Director
Malaysian Accounting Standards Board
——————————————————
Venue : PIKOM Training Center
Date    : 19th August 2015
The Session's Itenarary
9.00 – 9.30 a.m    : Registration
9.30 – 10.00 a.m  : Opening Remarks
9.45 – 10.30 a.m  : Speaker's Address
10.30 – 11.00 am : Q & A
11.00 – 11.30 a.m : Networking &Refreshments
Mr. Ng Swee Weng is currently the Project Director for Convergent Activities at the Malaysian Accounting Standards Board (MASB). He is also a Senior Advisor for Advisory at BDO Malaysia. Prior to joining BDO Malaysia, Swee Weng was a Partner at KPMG Malaysia since 1989. While at KPMG, he served as the partner-in-charge of the Northern Division and was also the national Risk Management Partner as well as a member of the Audit and Accounting Committee which provides directives and consultative support on technical issues.
RSVP to PIKOM Secretariat at naquib@pikom.org.my or +603-40650078
Copyright © 2015 PIKOM, All rights reserved.Our address is:
E1, Empire Damansara, No.2 Jalan PJU 8/8A
Damansara Perdana, 47820 Petaling Jaya, Selangor
Tel: 03-40650078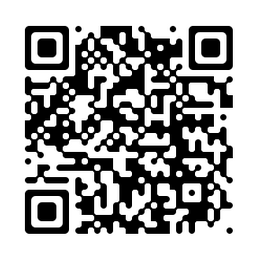 Google Maps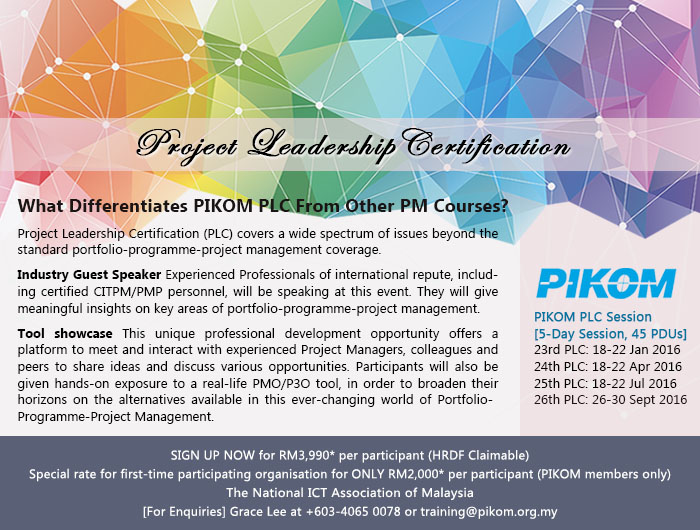 WHY You Should Consider Attending
'The PLC is impactful yet culture-shocking at the same time. PLC tells it as it is to your face and makes no apologies for it. This course leaves you wondering about what you have done with your life thus far and what you have been missing out. The course's formal-social-experiential delivery is unique & highly interactive, uplifting one's leadership skills… a must-attend for all!'
Andy SEOW Hon Wah, PMP – Vice President of RHB Banking Group, RHB Academy
'Similar to climbing Mount Kinabalu where one felt the excruciating pain & challenges in reaching the summit, where along the journey one faces trials and tribulations not knowing if the end goal is achievable but regardless one is driven forward by sheer focus and desire, the PLC commando training is no less the same wonderful journey.  As in Mount Kinabalu expedition, now that I am at the summit of the PLC, I felt so good, and that it was a very amazing journey, and everybody should at least try it once in his or her life time.  Personally and professionally, I believe that every leaders especially project/program/portfolio/leaders/ managers should attend this course. It would definitely guide and motivate you to do and be better professionally and personally.'
Zalani MOHAMAD, PMP – Head of PMO, Syarikat Takaful Malaysia Bhd
'The PIKOM PLC is a very intensive leader's leadership course. Although I was immensely stretched and stressed, I am grateful for having attended this training as the knowledge & techniques acquired in the 5 days are truly without comparison. An invaluable course for all!'
CHOO Pei Shang, PRINCE2 Practitioner – Manager-Application Support & Delivery Services of Sunway Bhd
'The PIKOM PLC is arguably the toughest yet the most enjoyable training I ever have in the  first 30 years of my life. I have not only learned more about project, but also leadership and life itself. The formal, social & experiential learning approach is awesome and fun.  Will certainly recommend my friends and business associates around Asia to attend.'
Alan TAY Hun Loon, PMP – Assistant Manager of Securemetric Technology Sdn Bhd

What You NEED to Know
– Methodology-independent & applicable to industries of all Sectors
– eLearning-centric (e-IDP, e-Notes, e-MCQ, e-Coursework,
– e-Case Study, e-Group work, e-Feedback, PLC Portal, Membership Card, Annual PLC Activity Statement & many more)
– Industry Guest Speaker (IGS)
– Leadership Series: C-level speakers sharing impactful "moments of truth"
– 1-1 Review
– Individual Development Plan
– 360″ Feedback
– Formal, social & experiential learning

Group Registration Package
Participate in any session
before 31 December 2016

Min Pax

Project Leadership Certification

10

Business Innovation Mindset

5

LegoSeriousPlay

5
*HRDF Claimable