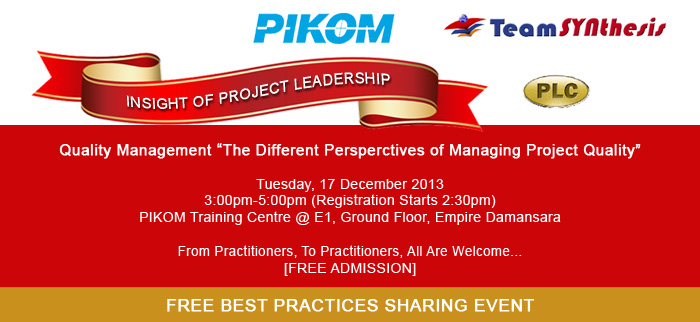 We are pleased to inform you the popular FREE worldwide Project Leadership Series in Malaysia organized by PIKOM, continuing with its 5th PLC Talk. In this event, it covers the QUALITY MANAGEMENT: "The Different Perspectives of Managing Project Quality" on Tuesday, 17th December 2013, 3:00 – 5:00PM at the PIKOM Training Centre @ Empire Damansara (Jalan PJU 8/8, Damansara Perdana, 47820 Petaing Jaya, Selangor Darul Ehsan. Malaysia).
We hope to see you for an enriching evening of lively interaction and enlightening leadership session. We will also have a Panel Discussion session on "Managing Project Quality in Malaysia & the Region".
RSVP to PIKOM, The National ICT Association of Malaysia before 13th December 2013
Nurul Azwa Bt. Zulsamli, Email: azwa@pikom.org.my or Tel: 03-79552922
PLEASE MARK YOUR CALENDAR NOW! Don't miss this golden opportunity to learn and to share, see you at 2.30pm. Please do come early, network and exchange ideas. Being a practitioner, as always, bring your fellow non-PLC colleagues as knowledge sharing knows no barriers and has no boundaries …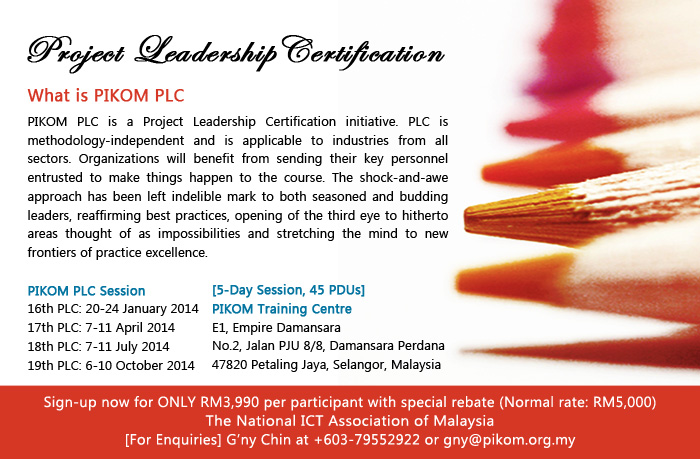 Copyright©2013
The National ICT Association of Malaysia.