Greetings from PIKOM Academy,
Deepen your leadership skills with our PowerPM Leadership Course (PLC) and earn 45 PDUs.  Our next upcoming class will be held on 13-17 April 2020.
How does PIKOM PLC differ from other courses?
This Project Leadership course covers a wide spectrum of issues other than standard project management areas that must be addressed in order to obtain the desired business outcome.
Experienced Professionals of international repute will be speaking at this event to give meaningful insights on key areas of project management.
Tool showcase: This unique professional development opportunity offers a platform to meet and interact with experienced Por t-folio/Programme/Project Managers, colleagues and peers to share ideas and discuss various opportunities. Participants will al so be given hands-on exposure to a real-life PMO/PMIS tool, in order to broaden their horizons on the alternatives available in this ever-changing, new normal world of Project Management.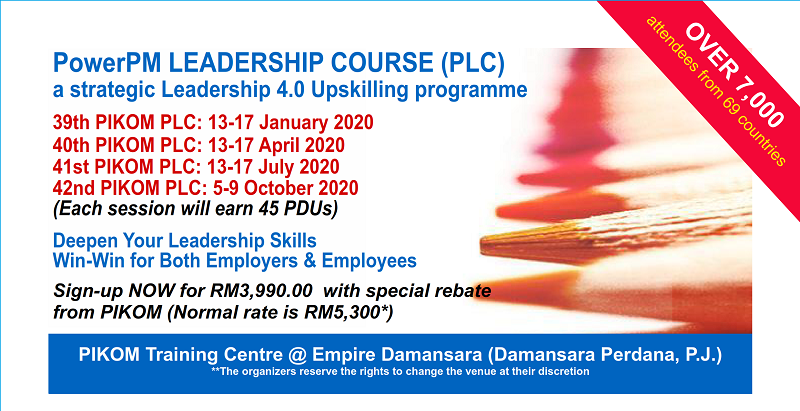 LC Leadership 4.0 is an intensive upskilling-reskilling Leadership Bootcamp, exceptionally impactful & refreshing, delivered through 70:20:10 formal-social-experiential learning which includes the Technical-Leadership-Strategic Thinking aspects. The 5-day real-life simulation course has the latest world-class contents:
6th Ed PMBOK
Agile Best Practices (focusing on business agility to address exponential changes and at exponential speed)
Leadership 4.0 (producing Leaders 4.0 to address the pre-requisite leadership imperatives to survive the on-slaught of Industry 4.0 (I40) fundamental changes in the way we work, live and interact: 9 Pillars, 5 Leadership Focus Areas & 4 Design Principles)
PMIS 4.0 (6th Ed PMBOK, Knowledge Management, Scalable Agile with Kanban Dashboards & DSM, Mobility/Cloud, Value-add Decision Making, Bimodal Water-Scrum-Fall).
Initiated by PCC: PIKOM CIO Chapter (PCC) is a chapter of PIKOM comprising the Chief Information Officers of major corporations in Malaysia formed to extend the "Voice of the Tech Industry" to the end- user community. The PCC has identified the development of ICT professionals in Malaysia among the many initiatives it will champion.
ENQUIRIES & REGISTRATION
PIKOM, The National Tech Association of Malaysia
Contact Person: Ms Cecilia Cheang
Mobile No: 012-6513713
Email: academy@pikom.org.my