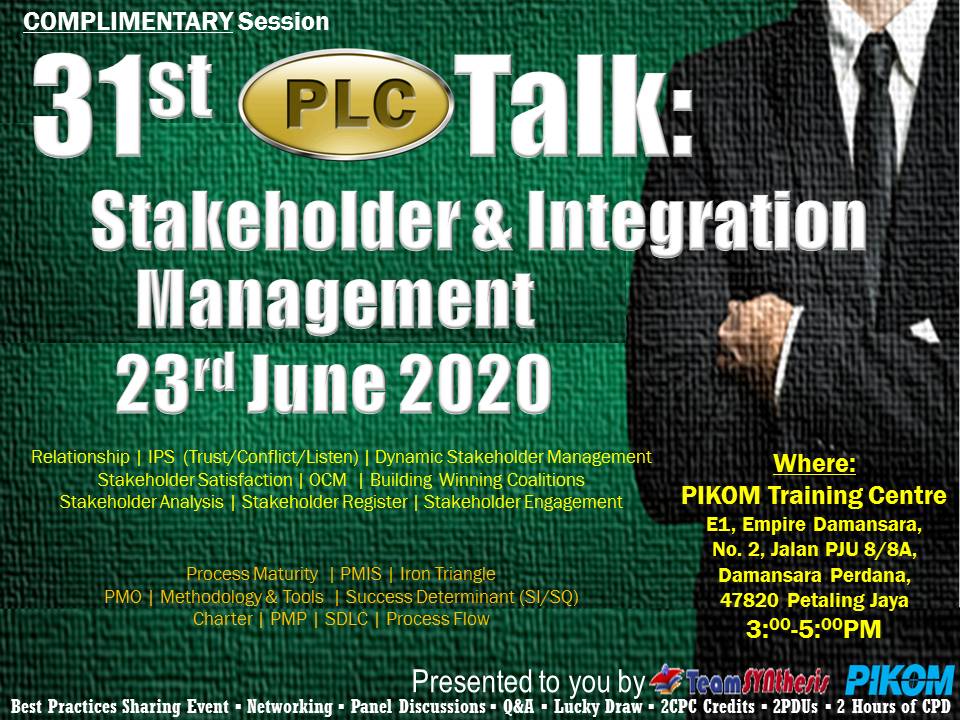 We are pleased to invite you to a specially consolidated session of the popular COMPLIMENTARY Project Leadership 4.0 Series, the 31st PLC Talk – combining Stakeholder & Integration Management – taking place on Tuesday, 23rd June 2020, 3pm, at the PIKOM Training Centre, Damansara Perdana. The earlier 30th PLC Talk scheduled for 11th March 2020 is now deferred to 23rd June 2020 due to public health interest and COVID-19 advisory.  We have also auto-transferred registered participants accordingly.
We hope to see you for this enriching afternoon of lively interaction and enlightening session, in which we will be having two Keynote Speakers delivering on Stakeholder & Integration Management in Projects, followed by a Panel Discussion. Click here to REGISTER and save your seat NOW.
What's In It For You
Keynote Speakers delivering on the topics of Stakeholder & Integration Management in Projects in the era of Industry 4.0>Golden opportunity to learn, interact and share>Chance to network and exchange ideas with fellow practitioners.
"Beware of little expenses. A small leak will sink a great ship."
– Benjamin Franklin
Tuesday, 23rd June 2020
3pm (be seated by 2:45pm)
PIKOM Training Centre
PLEASE MARK YOUR CALENDAR NOW!
Being a practitioner, as always, bring your fellow non-PLC colleagues as knowledge sharing knows no barriers and has no boundaries…
This Leadership Talk Series is a prelude to our 40th PIKOM PLC Leadership 4.0 Bootcamp, 13-17 April 2020. For more information on this, click here or Register.

*While it is a FOC event with high-quality refreshments catered for, we will, however, charge RM10 per No-Show for the cost of food wasted. Replacement participant, for the same session to avoid no-show charges, is always welcomed.

This Leadership 4.0 Bootcamp is exceptionally impactful & refreshing. Apart from the 70:20:10 formal-social-experiential learning delivery with Technical-Leadership-Strategic Thinking aspects, the 5-day commando training also covers 6th Ed PMBOK, Agile Best Practices (focusing on business agility to address exponential changes and at exponential speed), Leadership 4.0 (producing Leaders 4.0 to address the pre-requisite leadership imperatives to survive the onslaught of Industry 4.0 (i40) and PMIS 4.0.
Upcoming Courses: (you can download the respective full brochure by clicking on the link below)
1. Talk Registration (Afternoon Formal Knowledge-Sharing Event)
31st PLC Leadership 4.0 Talk, 23 June 2020 (Leadership 4.0 Knowledge Sharing) on Stakeholder & Integration
Registration details: https://docs.google.com/forms/d/e/1FAIpQLSd4a8_MbyXykWkcT3IzUd4XuPjLwMMQaL8AvGAGTmsAyKJRRw/viewform?usp=sf_link
2. Bootcamp Registration (5-day Formal-Social-Experiential Upskilling)
40th PIKOM PLC, 13-17 April 2020, Kuala Lumpur (Leadership 4.0 Bootcamp)
Registration details: https://pikom.org.my/wp-content/uploads/2021/04/Flyer-PIKOM_PLC_for_2020.pdf
41st PIKOM PLC, 13-17 July 2020, Kuala Lumpur (Leadership 4.0 Bootcamp)
Registration details: https://pikom.org.my/wp-content/uploads/2021/04/Flyer-PIKOM_PLC_for_2020.pdf